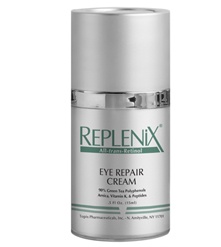 Replenix Eye Repair Review – Does It Work?
Replenix Eye Repair Overview
We have all heard that drinking green tea is good because it provides the body with antioxidants, but the Replenix Eye Repair formula also gives you a way to enjoy the benefits of green tea when it is applied directly to the skin. In addition to green tea, the formula includes a long list of peptides as well, and these will work together to reduce lines and wrinkles, lessen areas of darkness, and eliminate puffiness as well.
The 90% green tea polyphenols mixture will neutralize free radicals, and the peptides will work their age defying magic by reducing any sagginess in the skin and increasing elastin and collagen production. There is also vitamin K and arnica to address dark circles, and cucumber to help with soothing the under eye region. Though we did not find any clinical studies for Replenix Eye Repair, we were impressed with the number of professional and celebrity endorsements for the product.
Where to Buy Replenix Eye Repair
This is a product that is available online and in many upscale retail stores or cosmetics counters. We did not find any mention of a money back guarantee, but some stores and sites have good refund policies where customer satisfaction is concerned.  The best price we found for a 45 day supply of Replenix Eye Repair was $62.50, and this included free shipping. We did already mention that no guarantees will apply to this product, but good distributors often have refunds available.
Pro's and Con's
There are for more pros than cons for Replenix Eye Repair. On the positive side there is:
This product uses a good blend of natural compounds to generate targeted results;
Endorsements demonstrate the effectiveness of the formula;
This is reasonably priced;
The manufacturer of Replenix Eye Repair provides the entire list of ingredients; and
This is safe for all skin types.
The cons would include:
There is no guarantee available; and
There are no clinical studies available.
Recommendation for Replenix Eye Repair
We highly recommend Replenix Eye Repair as an advanced treatment for eyes. If you are seriously dedicated to eradicating the signs of aging in this delicate region of the face, there are few products that have as much to offer. We would like to see some neutral clinical information in the future, but we can see from the many positive endorsements that this is something that will work well for many different types of skin and many different people.
Have You Used Replenix Eye Repair?  Leave Your Review Below!
User Questions and Answers
User Questions and Answers
No Questions Have Been Answered For This Article.