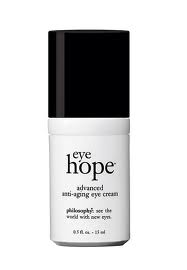 Philosophy Eye Hope Review – Is This Eye Cream Efficient?
Philosophy Eye Hope Overview
Philosophy Eye Hope is designed as an eye treatment for aging women. It is said that it is capable of diminishing puffiness, dark circles, fine lines and wrinkles, which are all the greatest enemies of women, as they age. It is worth mentioning that plenty of clinical studies have been conducted for Philosophy Eye Hope, and they all show tremendous benefits for the vast majority of the subjects.
Philosophy Eye Hope is also much loved by consumers, as the many positive reviews and testimonials show. The product is created by a company with a great reputation in developing skin care products, which makes this particular eye cream a great recommendation.
How Philosophy Eye Hope Works 
Philosophy Eye Hope is based on several key ingredients, such as beta glucan, a compound recently discovered to play an important role in reducing wrinkles and restoring the youthful appearance of the skin around the eyes. The ingredient is also known to make the skin firmer and more elastic.
Other ingredients included in this eye treatment formula are Alpha Glucosyl Hesperidin, that reduces the appearance of dark circles, as well as puffiness, and Palmitoyl Tripeptide-3, whose role is to restore the production of collagen in the skin in order to combat wrinkles. Philosophy Eye Hope also contains Dipalmitoyl Hydroxyproline that helps the skin remain well moisturized, while increasing the production of collagen.
It must be mentioned that Philosophy Eye Hope has been subjected to several tests and that the results were more than satisfactory in over 80% of the subjects. Over six weeks, the subjects have noticed important diminishing of dark circles, puffiness and fine lines. These conclusions are also supported by individual reviews that are, in their vast majority, positive.
Philosophy Eye Hope Benefits
A powerful eye treatment
It contains cutting edge ingredients in combating the effects of aging
Supported by clinical tests and positive testimonials
Philosophy Eye Hope Drawbacks
It may cause irritation
Some reviews point out that it can be too sticky
Some users do not like its smell
Where to buy Philosophy Eye Hope
Philosophy Eye Hope can be purchased directly from the manufacturer's website. Also, Philosophy Eye Hope can be purchased from reputable online retailers, like Sephora and Amazon. You can also find Philosophy Eye Hope in brick and mortar stores.
Recommendation
Philosophy Eye Hope is a great eye treatment from all points of view. However, in case your eyes get irritated, you must stop the treatment right away. The cream is created using very powerful ingredients that are highly recommended by clinical studies.
Also, those that have tried Philosophy Eye Hope have mostly only positive things to say about it. It seems that it works in most cases and that, indeed, it is capable of reducing skin aging symptoms, such as dark circles, fine lines and puffiness. Still, since some are not crazy about its texture and smell, it may not be for anyone.
The best way of discovering whether Philosophy Eye Hope is for you or not is to try a sample and see how things work out for you.
Have You Used Philosophy Eye Hope? If so, leave your review below!
User Questions and Answers
User Questions and Answers
No Questions Have Been Answered For This Article.