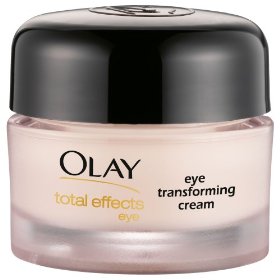 Olay Total Effects Eye Transforming Cream Review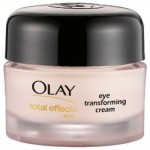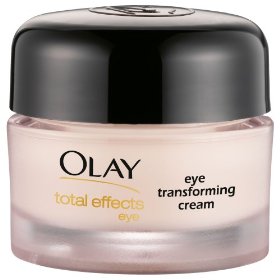 Oil of Olay has a very long history and a very solid reputation for making products that enhance the health and good looks of the skin. Their Olay Total Effects Eye Transforming Cream easily qualifies as one of their better products, and this review will explain why we recommend it to anyone hoping to reduce the signs of aging around their eyes.
Ingredients in Olay Total Effects Eye Transforming Cream
The product relies heavily on vitamins and minerals to brighten the eye area, reduce lines and wrinkles, and to improve texture and tone. We know that it will work well because one of the most abundant ingredients is niacinamide (a Vitamin B complex) that automatically addresses many of the worst of the signs of aging. There is also many plant extracts with their beneficial peptides, aloe vera and cucumber for soothing and moisturizing, and an array of other extracts known to improve the condition of the skin as well.
Where to Buy
All of the Oil of Olay products are widely available online and in retail stores. Because there is no manufacturer guarantee available, it is best for someone concerned about such an issue to find a vendor offering a refund based on customer satisfaction.
Pro's and Con's
There are always going to be pros and cons for beauty products, but with the Olay Total Effects Eye Transforming Cream product, there are very few cons to mention. They are:
This product has no clinical studies available; and
This is an "eyes only" product.
The benefits include:
This product comes from a very reliable maker of skin care formulas;
The ingredients have been clinically studied for efficacy;
This is widely available;
It is extremely affordable; and
It is safe for all skin types.
Best Price
In our research we discovered that the average retail price for Olay Total Effects Eye Transforming Cream is $19, though eBay and Amazon have it for lesser amounts.
Recommendation
With the reputation of Oil of Olay behind it, the Olay Total Effects Eye Transforming Cream gets our recommendation. It uses an innovative blend of compounds that are known for improving the looks and conditions of the skin around the eyes. Though we would have loved to see clinical studies of this precise formulation, we can say that a look at the ingredients proves that this very affordable product is going to give good results in almost all who use it.
Have You Used Olay Total Effects Eye Transforming Cream?  Leave Your Review Below!
How Women Found This Review:
and https://www womensblogtalk com/olay-total-effects-cream-review
User Questions and Answers
User Questions and Answers
No Questions Have Been Answered For This Article.