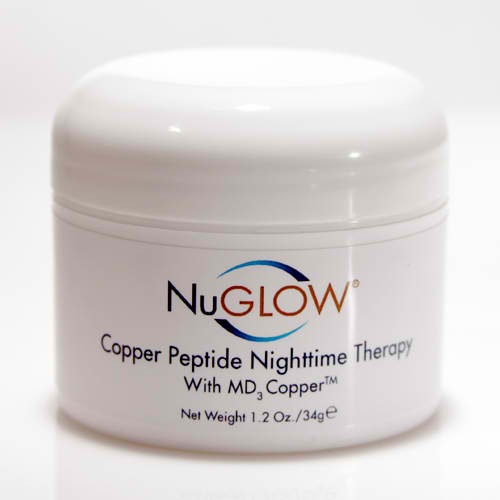 NuGlow NightTime Therapy Review – Is It Worth The Wait?
NuGlow NightTime Therapy Overview
NuGlow NightTime Therapy is a cream that has been created to help revitalize the skin and will help to reduce the look of fine lines and wrinkles. It contains copper, which helps in the production of collagen and elastin. NuGlow NightTime Therapy also includes a variety of other antioxidants to give you better looking and feeling skin.
How NuGlow NightTime Therapy Works
NuGlow NightTime Therapy contains MD3 copper complex including antioxidants that penetrate deep within the skins layers to where the blood vessels are located. It is the blood vessels that help keep your skin cells happy and healthy. NuGlow NightTime helps new healthy skin cells form and pushed to the outer layer of your skin. It also has collagen and elastin in it, which will help the skin from becoming saggy.
NuGlow NightTime Therapy Benefits
The website for NuGlow is very informative and thorough.
It has a list of full ingredients for NuGlow NightTime Therapy.
There are positive testimonials on the website.
You can become a member of NuGlow to receive discounts when purchasing their products.
NuGlow NightTime Therapy Drawbacks
It can take up to a month to see visible results.
It is fairly pricey for only a 1.2-ounce jar.
Where to Buy NuGlow NightTime Therapy
NuGlow NightTime Therapy can be purchased only online. Those websites include nuglowskincare.com, groupon.com, Amazon and zimbio.com. If you become a member of NuGlow, you will receive discounts when you purchase the products.
Recommendation
There doesn't seem to be anything special about NuGlow NightTime Therapy except its special ingredient of copper. The website is put together very professionally and is very informative about all of their products and the company. They seem truly vested in their products. There is an entire page dedicated to results of their products including before and after pictures.
It does take about a month to truly see some results, which could get kind of pricey since the jar is so small. There are a lot of positive testimonials on the website that are encouraging to a new customer. It seems to be a product that truly works and is worth the wait for the results.
Have You Used NuGlow NightTime Therapy? Leave Your Review Below!
User Questions and Answers
User Questions and Answers
No Questions Have Been Answered For This Article.