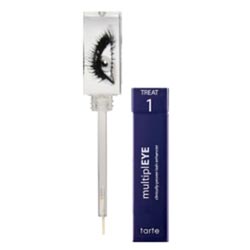 MultiplEYE Lash Enhancer Review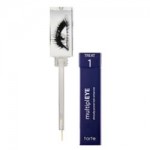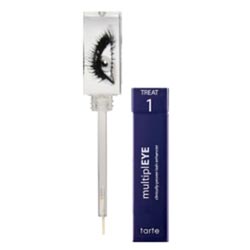 Lets face it, as you get older your lashes are just not as full and thick as they used to be.  In fact, even those in their early 20's may not have as full or thick lashes as they would like to have.  Since great eyelashes have been all the craze lately, most people want to know how they can get them.  This has caused many cosmetic companies to start formulating products that will enhance the lashes and help them to naturally grow longer and fuller, without having to turn to extensions and falsies.  MultipEYE is just one of those products out there.  This is the one we will be reviewing today.
Product Overview
MultiplEYE is a product that is made by Tarte cosmetics.  They have a variety of other skin care products and cosmetics as well.  They realized the importance of having long, thick lashes and wanted to make it possible for everyone.  This product contains all natural ingredients, and has never been tested on animals.  You will find that the main ingredients are cellulose, hydroplant peptide, soy protein, vitamin C and water.  These are all great for you, and your skin!  Another benefit of this product is the fact that it has been tested rigorously by dermatologists, and has been given their seal of approval.
Consumer Review
One consumer that tried this product stated:
"After seeing this product in a recent magazine, I decided that it may be just the answer to my lashes' needs.  I got the product, and being the instant gratification seeker that I am was disappointed at first.  This was until I learned that these types of products take about 3-6 weeks to start noticing the difference.  I am so glad that I stuck with it and continued using the product.  My lashes are now thicker and longer than ever, and they look amazing.  I am an avid believer in this product, and I will recommend it to many of my friends that are looking for similar results."  – Carley, Tennessee
Pricing and Availability
Many people that order this product will choose to get it directly from the Tarte cosmetics website.  This is because they will know for a fact that the MultiplEYE product they are getting is legitimate.  If you purchase through the site, you will spend about $65 for the product.  In shopping around, you will find that other sites have it for the same price so shopping around does not really save you any money In fact, many people have reported that they were able to find it on sites such as Amazon for $65 as well.  You can also find it at your local Sephora store for around the same price, and skip out on the shipping charge!
Conclusion
I would have to recommend MultiplEYE for those seeking an eyelash enhancing product.  First of all, I am really drawn to the fact that it is not tested on animals.  I also like the way that they take a natural approach to the product.  Some of the other companies, who will remain nameless, tend to have harsh chemicals in their products which keep them from being dermatologist approved.  I have to say that the price on this product is also a pretty good deal considering some of the other products out there.  Overall, I say give it a try, but remember that it is not an instantaneous change.  You have to give it a few weeks.
User Questions and Answers
User Questions and Answers
No Questions Have Been Answered For This Article.