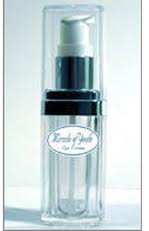 Miracle of Youth Eye Cream Review – Is It Effective?
Miracle of Youth Eye Cream Overview
Miracle of Youth products claim that they make Botox and collagen injections obsolete.  With their breakthrough ingredients, they help relax facial muscles, increase collagen, and repair and prevent wrinkles.  Now there's a Miracle of Youth Eye Cream to specifically target the most sensitive and fragile skin on your face.
Miracle of Youth Eye Cream Ingredients and How They Work
Miracle of Youth Eye Cream contains Argireline.  This is the "miracle" ingredient that rivals the effects of Botox.  It relaxes and facial muscles so fine lines and wrinkles are immediately minimized.  Not only does this help now, it also helps fewer wrinkles to be created down the line.
Additionally, Miracle of Youth Eye Cream uses Matrixyl, a powerful peptide that helps stimulate the production of collagen.  This strengthens and fortifies skin to be more resistant to wrinkles and lines in the future.
Red Algae improves circulation, thereby lightening dark circles.
Sepilift helps firm skin to reduce puffiness.
And Vitamin C fights the good fight against free radical damage caused by environmental factors.
This product is non-irritating and can be used in conjunction with other products, Miracle of Youth or otherwise.  You should use it twice a day after cleansing and prior to moisturizing.
Miracle of Youth Eye Cream Pros and Cons
There are good and bad points to everything.  Comparing the two leads to the best decision as to whether or not to spend your money on any particular product.
Advantages of Miracle of Youth Eye Cream
It contains Argireline, so it reduces wrinkles immediately.
Its peptides strengthen the skin beneath the eyes.
It address puffiness and dark circles as well.
Disadvantages of Miracle of Youth Eye Cream
It is expensive.
It is only available online through the website.
We couldn't find any independent Miracle of Youth Eye Cream reviews.
The website doesn't give much information about the eye cream or how it works.
Where to Buy
If you go to the Miracle of Youth website, you'll see the opportunity to buy Miracle of Youth Eye Cream.  A single pump dispenser costs $49.95.  There is also a Miracle of Youth infomercial through which you can use an 800 number to order.  We found no indication of a money-back guarantee provided by the company.
Conclusion
Miracle of Youth Eye Cream may have a few good ingredients, but the fact that we don't know the levels of concentration is a bit concerning.  In fact, the website doesn't explain much about the product.  Given those facts and the lack of independent reviews, we think $50 is too much to spend on such an unknown entity.  There are cheaper products that are more proven to work than this.  We think you should focus on one of those.
Have You Used Miracle of Youth Eye Cream?  Leave Your Review Below!
User Questions and Answers
User Questions and Answers
No Questions Have Been Answered For This Article.