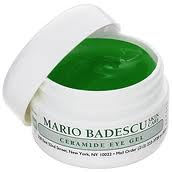 Mario Badescu Ceramide Eye Gel Review
Mario Badescu Ceramide Eye Gel Overview
The Mario Badescu brand has been made famous by the very large number of celebrities that are known to frequent their New York City salon, which was established way back in 1967.  At that time, Romanian born skincare specialist Mario Badescu started creating his botanical based formulas that he chose to make available to all women, whether or not they had physical or financial access to the spa treatments.
Mario Badescu Ceramide Eye Gel is a soothing, cooling eye gel that's made to refresh eyes, smooth wrinkles, and decrease puffiness.  They recommend keeping the jar in the refrigerator for an even more refreshing treat and even more help with puffiness.
Mario Badescu Ceramide Eye Gel Ingredients and How They Work
Probably the most beneficial ingredient in Mario Badescu Ceramide Eye Gel is the Ceramides.  These skin identical lipid molecules have been popular in skincare products for years because of their ability to reinforce the moisture barrier in the skin.  They have the effect of repairing the matrix to make skin appear smoother and firmer, while holding in moisture to keep skin plump and hydrated.  Tons of research has been done on ceramides and it's pretty conclusive that they work.  Cholesterol is also added to perform much the same function.
Most of the rest of the ingredients are emollients to help skin appear smooth and supple. There's glycerin for some actual moisture and silicone to smooth over wrinkles for temporary relief.
"Herbal Extract" is mentioned in the ingredient list, but no more information is given.  This could be some sort of soothing or cooling formulation, or it could be something with antioxidant properties.  Without knowing what it is exactly, it's hard to say what it will do.
You can use Mario Badescu Ceramide Eye Gel both morning and night.  Apply a small amount to the area under the eye with your ring finger.  Keeping it in the refrigerator will be even more refreshing and further help reduce puffiness.
Mario Badescu Ceramide Eye Gel Pros and Cons
Advantages of Mario Badescu Ceramide Eye Gel
It's very affordable for a salon quality product.
It goes on smooth and cool.
It reduces puffiness.
A little goes a long way.
Disadvantages of Mario Badescu Ceramide Eye Gel
It doesn't contain antioxidants or much in the way of anti-aging ingredients.
There are lots of negative

Mario Badescu Ceramide Eye Gel

reviews, stating that it goes on sticky, is not at all hydrating, and does not affect lines and wrinkles.
Where to Buy
You can buy Mario Badescu Ceramide Eye Gel online or in stores.  If you prefer a store, Ulta would be a good bet.  Online, there's the Mario Badescu website, Amazon, and a few other cyber retailers.  The price is a very reasonable $18 for a ½ oz jar.
Conclusion
The word of mouth about Mario Badescu Ceramide Eye Gel is extremely varied.  There are plenty of negative reviews from disappointed women who expected much more from this Mario Badescu product.  On the other hand, plenty of women love to keep this stuff in the fridge for those rough, puffy-eye mornings.  If you're looking for something specifically for puffy eyes, we would say Mario Badescu Ceramide Eye Gel is worth a go.
Have You Used Mario Badescu Ceramide Eye Gel?  Leave Your Review Below!
User Questions and Answers
User Questions and Answers
No Questions Have Been Answered For This Article.