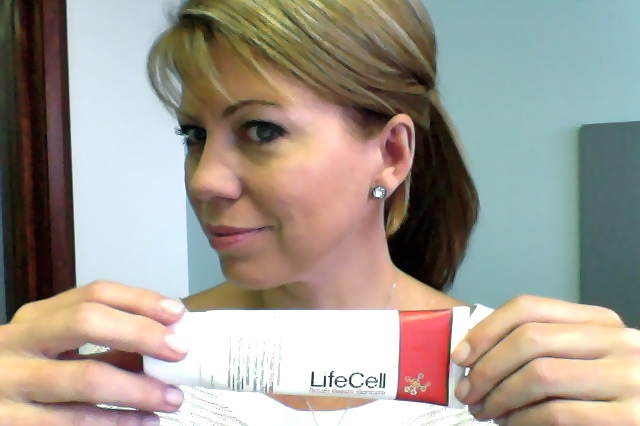 Lifecell Review – My Results After 1 Year of Using Lifecell
Note: This is my personal review, Click HereClick Here to visit the official Lifecell site
Read Lifecell Anti-Aging Treatment Review and Results for my two year update and to see my before and after pictures and new video review!
Hi everyone! It's Rachel from womensblogtalk.com, and I am FINALLY going to update you on my experience with using Lifecell for almost one year! The video review that I have up on the site was after using it about six weeks, and I loved it then,  but let me just say – this is hands down my absolute favorite moisturizer. I love this product, and no matter what other creams I use in between to try them out, I am always happy when I can go back to using Lifecell!
The results I've experienced with Lifecell are smoother skin with less fine lines and wrinkles on my forehead and around my eyes, a more even skin tone, decreased hyper-pigmentation, plumper and fuller lips, and an all around more youthful appearance in my face. Because Lifecell has been so effective in so many areas, I'm going to break it down so that you can hone in on what might interest you about this product.
Here is a list of the ingredients in Lifecell.
Here's my video review! If you'd like to just continue reading, just scroll down.

How Lifecell Gave Me Smoother Skin/Fewer Wrinkles
From the moment you apply Lifecell (and you only need a dime-sized amount), you will notice an immediate difference in your skin. It quickly works to fill in lines and wrinkles to smooth out your skin and give it an even, youthful appearance. It feels great going on, calming  the skin and moisturizing nicely without leaving you feeling greasy at all. I have combination skin, and the texture and amount of moisture it provides is perfect.
Seems like every time I try something else, by midday I am blotting my face to get rid of that dreaded greasy, excess shine. I can tell you that does not happen when I use Lifecell. It literally fills in the lines and wrinkles, whether they are around your eyes, forehead, lips or laugh lines. Lifecell's unique formula literally works as a filler and a moisturizer.
The reason the human eye sees wrinkles is because a dark shadow is formed where the wrinkle is, but when that wrinkle is filled in with Lifecell, it virtually disappears. It creates a nice palette for applying your makeup to make you look younger and feel more confident.
See How Lifecell Works To Smooth Skin and Wrinkles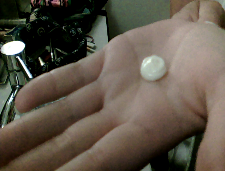 How Lifecell Decreased My Hyper-Pigmentation (Dark Spots)
I have tried hydro-quinone, glycol acid washes and moisturizers, peels, and nothing has worked better than Lifecell to reduce the hyper-pigmentation along my jawline. As women age, we tend to get a few dark spots somewhere on our face due to hormones, or from too much sun. Living in Florida, I am in the sun a lot and developed hyper-pigmentation along my jawline on both sides of my face.
Nothing seemed to help no matter what I tried, so I would always cake on the foundation along my jawline to try and hide it, and it never looks good if you have too much makeup caked on your face. I started seeing results with Lifecell after about a month of using it. It dramatically reduced how dark the spots were by at least 50%, making it much easier to conceal.
And to be honest, there is no one product that will remove the dark spots completely, unless you get laser surgery on those areas. I am now much more confident about my face now that those dark spots have been reduced. It is always a good idea to use a foundation with an spf of 15 to keep those spots from darkening up again in the sun. And always use an spf of 30 -50 when you will be in the sun for a prolonged period of time.
Click Here To Learn How Lifecell Works To Decrease Dark Spots
How Lifecell Helps My Eyes!
I have never used a product that could double as a moisturizer and an eye cream, but Lifecell can be used around all of the delicate areas of your eyes. I use it under my eyes to fill in those pesky fine lines, to reduce puffiness, and sometimes even on my eyelids before applying my eyeshadow.
It does not sting or burn, and is non-allergenic. I have very sensitive eyes, and sometimes even products labeled as eye creams cause me to have a reaction. I will say, however, that I do use Revitol as my daily eye cream, but if I'm ever in a pinch, or going on a trip and don't want to pack multiple moisturizers and creams, I just pack my Lifecell and just use that during the trip.
In my experience, I have found that Lifecell works best underneath my eyes to reduce the appearance of fine lines and wrinkles, reduce puffiness, and would be a great product to use for crows feet if you have deeper lines and wrinkles.
Click Here To See How Lifecell Acts As An Eye Cream
How Lifecell Gave Me Fuller and Plumper Lips
Lips are a very important area of concern and women love to have juicy, kissable lips! Whenever I apply my Lifecell (which is both morning and night), I also rub it all over my lips paying special attention to the area along the lip line. Some problem areas for women are small wrinkles around their lips, and Lifecell works to fill in the lines and plump up your lips making them soft, supple, and youthful. I can also say that it does not leave any type of residual taste on the lips so no worries on the kissing part!
Bottom Line
As you can see, I am very excited about the results that I have experienced by using Lifecell. It has helped my skin to have a more youthful appearance by reducing and filling fine lines and wrinkles around my eyes, lips and forehead, and reducing the hyper-pigmenation along my jaw line. Lifecell is definitely my favorite moisturizer and my go-to cream for daily and nightly use.
I will continue to try new products to give you unbiased reviews on womensblogtalk.com, but so far, and after using Lifecell for almost an entire year, it is by far my favorite product and I highly recommend it for it's quality results. You will not be disappointed! (and if you are, you can cancel your order and send the product back for a full refund – Lifecell has a 120 day money back guarantee!)
If you have any specific questions on Lifecell that I haven't answered here, please feel free to leave a comment below and I will be sure and answer quickly. Thanks for visiting my site and I hope you have found this review useful!
Click Here To Learn More about Lifecell
How Women Found This Review:
and https://www womensblogtalk com/lifecell-review-my-results-after-1-year-of-using-lifecell
User Questions and Answers
User Questions and Answers
---
Q: I have bought Nerium not knowing about Life cell I am not seeing any changes in my skin and read it's poison. Please help me. Thank you Sincerely Sherrie Harris [email protected] -Sherrie
A:
Sherrie, if your Nerium is a subscription, call them and cancel it so they stop sending you future shipments; that's not a skin care line that I recommend. You will notice the smoothing effect of Lifecell as soon as you apply it. It's definitely my favorite cream for that reason! Rachel~WomensBlogTalk.com
Was this question helpful to you?
1 out of 1 people found this question helpful.
---
Q: i would have liked to see a before and after shot of a review before I would buy -d
A:
Hi D, I do have before and after pics in my Lifecell review. Can you go back and take a look? ~Rachel
Was this question helpful to you?

---
Q: Am I able to use Life cell skin care cream underneath my make up for all day wear? -Crystal
A:
Hi Crystal, YES absolutely - that's what it's made for. Lifecell is an anti-aging cream that works as a moisturizer but fills in wrinkles like a primer. It is perfect for use before makeup. Love the stuff! Thanks for your question. xo Rachel
Was this question helpful to you?

---
Q: Can I wear moisturizer over Lifecell? -
A:
Yes, a serum underneath or moisturizer.
Was this question helpful to you?

---
Q: Does your products selling in Vietnam -Kim su
A:
Hi Kim Su, gosh I'm not 100% sure. Use this link to the Lifecell page and try and order, the only way to tell for sure is whether it accepts your address. The shipping info is before the check out, so you''ll be able to find out. xo Rachel
Was this question helpful to you?

---