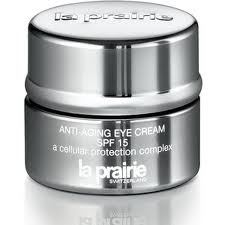 La Prairie Anti-Aging Complex Review – Is It Worth It?
La Prairie Anti-Aging Complex Overview
The full name is La Prairie Anti-Aging Complex – A Cellular Intervention Cream.  So that gives you an idea of its purpose.  La Prairie is well known as a high end skincare company with plenty of devoted followers.  This is part of the Anti-Aging Collection, a line with several products devoted to preventing the effects of aging on your skin.  While it does of course hydrate, the main focus of La Prairie Anti-Aging Complex is halting the effects of aging at the cellular level.
In terms of the benefits you can expect from La Prairie Anti-Aging Complex, they are:
Greater elasticity and firmness.
Stimulated cell turnover.
Enhanced collagen production.
Increases hydration.
Prevention of moisture loss.
Fights skin damaging inflammation.
Now, if you're going to spend the kind of money that buying La Prairie products requires, you'll want to know everything you can about whether or not and how well it works.  So we've gathered all the information we can to help you make your decision.
La Prairie Anti-Aging Complex Ingredients and How They Work
The list of state-of-the-art ingredients in La Prairie Anti-Aging Complex is long.  Unfortunately, La Prairie doesn't really get into explanations of how their formulas work, so we've pieced it together for you:
Retinol for increased cell turnover, revealing your best skin.
Dimethicone is a silicone compound that provides a moisture barrier and also fills in and plumps out wrinkles temporarily.
Peptides and Proteins to build collagen and repair skin's connective tissue network.
A host of antioxidants, like Vitamin E, Treemoss Extract, Hydrolyzed Pea Extract, and Camellia Sinensis Leaf Extract.
It also contains some Titanium Dioxide and Mica to help skin look better temporarily by adding a bit of color and light reflection. Botanical oils for emollience.
You are instructed to scoop a bit out of the jar with the enclosed spatula and warm it in the palm of your hand before gently applying it to your face and neck in an upward circular motion.  You can use it morning, night, or both depending on your needs.  It is not meant specifically to be a moisturizer.  It provides some moisture, but La Prairie Anti-Aging Complex is meant more to be a cellular treatment.
La Prairie Anti-Aging Complex Pros and Cons
Advantages of La Prairie Anti-Aging Complex
There are several beneficial ingredients.
It's made by a well-respected company.
There are several favorable La Prairie Anti-Aging Complex reviews from customers who find great benefit from it.
Disadvantages of La Prairie Anti-Aging Complex
It's expensive.
The jar packaging is unsanitary (though if you use the scoop and keep it clean this will be less of a factor) and it will cause some of the ingredients (namely the retinol and the antioxidants) to degrade and become ineffective.
Plenty of La Prairie Anti-Aging Complex reviews are from customers who are fans of La Prairie but were disappointed in this product.
Where to Buy
You can find La Prairie Anti-Aging Complex at many higher end department store beauty counters as well as online.  The 1.7 ounce jar retails for a whopping $240.  Amazon sells it for less, but there is at least one review that complains that it may be counterfeit or used product.
Conclusion
$240 is a lot to pay for a wrinkle cream.  For some women, that's okay as long as it works.  Several La Prairie products fit that bill.  That doesn't exactly seem to be the case with La Prairie Anti-Aging Complex.  If you really want to try it, our advice is that you try to get your hands on a sample.  Then you can decide whether or not you like La Prairie Anti-Aging Complex before spending so much money.
Have You Used La Prairie Anti-Aging Complex?  Leave Your Review Below!
User Questions and Answers
User Questions and Answers
---
Q: I started using the La Prairie anti ageing complex at night. What quantity is good for me and do I need use a night moisturiser on top of that? I like to moisturise my skin well at night and worried that this complex may not be enough for me at night. please clarify thank you in advance -MARINA
A:
Hi Marina, La Prairie is very expensive, so if you feel it's not giving you enough moisture, I don't think this may be the best product for you. If you feel like you need more moisture, I would apply a serum first and use the La Prairie moisturizer on top. You shouldn't need to layer two separate moisturizers, and you shouldn't need to use very much, like the size of a dime in your hand. Rachel
Was this question helpful to you?
1 out of 1 people found this question helpful.
---