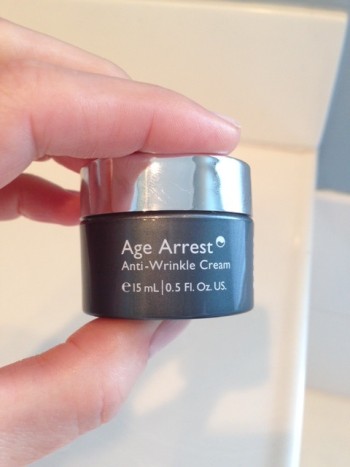 Kate Somerville Age Arrest Anti-Wrinkle Cream Review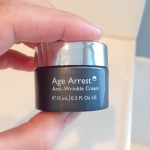 The Kate Somerville Age Arrest Anti-Wrinkle Cream is said to be based on Nobel Prize winning science.
This innovative treatment is proven to effectively diminish the appearance of wrinkles, firm the skin and increase elasticity, improve the appearance of skin discoloration, and significantly hydrate normal to dry skin.
The Age Arrest Anti-Wrinkle Cream seems to do it all! But what makes this wrinkle cream so revolutionary? Let's find out.
I purchased the Kate Somerville Clinic Solutions Kit for $75 from Sephora which contains four of her signature products, with Age Arrest Anti-Wrinkle Cream being the fourth step.
The other three steps are the Gentle Daily Wash, ExfoliKate, and DermalQuench Liquid Lift.
What I noticed first when applying Age Arrest Anti-Wrinkle Cream was its thick, creamy and highly moisturizing texture and its blended botanical aroma.  Hints of lavender, peppermint, cucumber, aloe, rosewood, jasmin – it's such a blend of different scents that it's very hard to pinpoint!
Age Arrest Anti-Wrinkle Cream Ingredients and How They Work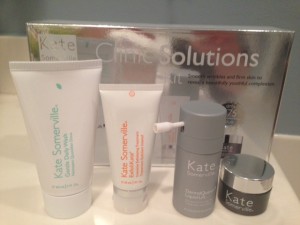 I've quickly learned this week during my trial of Kate's products, that they all have one thing in common: numerous botanical ingredients, which for some folks with sensitive skin can be a deal breaker.
Age Arrest Anti-Wrinkle Cream contains a potent formula of botanical ingredients along with Telo-5 Technology designed to combat all signs of aging and deliver a more youthful complexion.
Telo-5 Technology – based on Nobel Prize medical research on the youthful benefits of prolonging the life of telomeres (likeness to the skin's DNA), which stores critical youth information and diminishes as we age.
Age Defying Peptides – helps reduce the breakdown of collagen and improve the appearance of firmness.
Laminarla Kelp Extract – works with the skin's natural balance of hyaluronic acid to retain moisture and reduce wrinkles.
Sea Whip Extract and Algae Plasma – a proprietary blend which provides immediate and long term soothing of the skin.
Botanicals Extracts – including Rosemary, Lavender, Peppermint, Rosewood, Camellia Leaf, Cananga Flower, Apricot, Jasmine, Bergamot, Sandalwood, Coriander, which have anti-oxidant and anti-aging properties.
Aloe Leaf Juice and Cucumber – to sooth the skin.
No Parabens, Sulfites, or Phthalates
There's no doubt that Kate didn't skimp on anti-aging ingredients in her Age Arrest Anti-Wrinkle cream, but the question is –  can your skin handle this level of botanicals, many of which are known skin irritants?
And is a heavy moisturizer right for your skin? Let's take a closer look at what this cream claims to do.
In a 4 week independent clinical trial, the study concluded the following results:
– 90% of women showed highly significant improvement in skin firmness and elasticity
– 93% of women showed highly significant improvement in skin discoloration and skin tone evenness
My Experience Using Age Arrest Anti-Wrinkle Cream
I decided to put Kate's Age Arrest Anti-Wrinkle Cream to the test along with the other items in the Clinical Solutions Kit.
First was the Gentle Daily Wash, which has a refreshingly invigorating botanical smell and works well to deep cleanse the skin without over drying.
Next was the ExfoliKate Intensive Exfoliating Treatment, which caused my skin to flare up and become warm, red and blotchy.
The third product was the DermalQuench Liquid Lift Anti-Wrinkle Treatment, which, while caused a bit more flushing, was highly quenching to the skin and plumped up my wrinkles. The fourth and final step was to apply the Age Arrest Anti-Wrinkle Cream.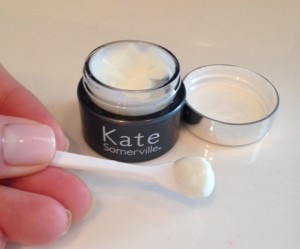 The Age Arrest Anti-Wrinkle Cream has a pleasant botanical aroma and feels soothing to the skin. It has a very thick and creamy texture and I would consider it to be a heavy moisturizer best suited for dry skin.
While I enjoyed the scent, and how highly moisturizing the cream was, it felt a bit greasy and never fully absorbed.
I found that wearing it in the morning underneath my makeup caused me to be shiny by midday,  and using it only at night worked better for me, however I still woke up with an oily feel to my face.
The cream itself didn't cause me any reactions such as redness like Kate's other products did, but overall I find the Age Arrest Anti-Wrinkle Cream to be a bit too heavy for my skin type for daily use.
 Age Arrest Anti-Wrinkle Cream Pros and Cons
Pros
Proven in clinical trials to reduce the appearance of wrinkles
Increases skin's firmness and elasticity
Improves the appearance of skin discoloration
Significantly hydrates
Includes proven anti-aging ingredients
Clinically tested to be safe for sensitive skin
Cons
Disclaimer: The Nobel Prize® is a registered trademark of the Nobel Foundation. The trademark holder is not affiliated with Kate Somerville and does not sponsor or endorse this product. – See more at: http://www.katesomerville.com/age-arrest-anti-wrinkle-cream#sthash.xDApxlnH.dpufBased on Nobel Prize-winning science using Telo-5 Technology (Kate herself did not come up with this technology and there is a disclaimer on her website)Cons
Expensive, $90 for 1.7 oz tub
Contains known skin irritants such as lavender, peppermint and rosewood
May be too heavy for most skin types
Could not find any Youtube videos with personal reviews, other than my own
Mixed reviews on Sephora, some love it, some said it was too greasy and caused breakouts
Recommendation and Where to Buy Age Arrest Anti-Wrinkle
Kate Somerville Age Arrest Anti-Wrinkle Cream can easily be purchased online from Kate's official website,  Ebay, Amazon or the Sephora store at a price of $90 for a full 1.7 oz. tub.
If you don't want to spend that kind of money on a full sized tube, you can buy the Kate Somerville Clinic Solution Kit like I did for $75 which has four of her signature treatments in it including a 0.5 oz. tub of the Age Arrest Anti-Wrinkle Cream, which is enough to use for a couple of weeks to see if you like it.
I couldn't find the sampler size sold separately online but you may be able to find a sample in Sephora.
My recommendation is to definitely try a sample of this product before biting the bullet on a full sized tub, especially since it comes with a high price tag.
Since I had reactions to the highly concentrated botanicals in a couple of her other products, I may have just been lucky not to have a reaction to the ingredients in the Age Arrest Anti-Wrinkle Cream, as it seems to have the longest list of different botanical ingredients, but bottom line I found this cream to be too heavy for my combination skin.
If you have sensitive skin, rosacea or acne, your skin may not be able to handle these ingredients. If you have extremely dry skin that is not sensitive, then you may like the highly moisturizing formula, and there's no doubt that is has effective anti-aging ingredients within.
Check out our Top Wrinkle Creams
Have you used Age Arrest Anti-Wrinkle Cream? Leave your review below!
User Questions and Answers
User Questions and Answers
No Questions Have Been Answered For This Article.