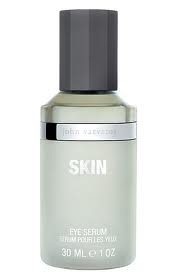 John Varvatos Eye Serum Review
John Varvatos Eye Serum Overview
The majority of eye serums are designed to help diminish the appearance of fine lines and wrinkles around the eyes.  In order to accomplish this goal it is important that a product have active ingredients that have scientifically been proven to help correct some of these issues in aging skin.  John Varvatos Eye Serum promises to soothe and invigorate the skin around the eyes and reduce puffiness.  Dark circles should be a thing of the past if you continue to use this eye serum regularly.  John Varvatos has an extensive line of skin care products designed to help restore the healthy glow to skin as it ages.  Along with the eye serum you may find that a number of other products in the line help improve the overall appearance of your skin.
How John Varvatos Eye Serum Works and Ingredients
John Varvatos eye serum contains several natural ingredients that aid it in accomplishing the goals of rejuvenating the skin around the eyes as well as reducing puffiness and diminishing dark circles.  Green tea extract is a well known antioxidant and it can be found in healthy amounts in this eye serum.  Cucumber and menthol extracts help to rejuvenate and soothe the sensitive skin around the eyes.  These natural ingredients also help to lock moisture into the skin while at the same time reducing puffiness around the eyes.  It is important to note that this product is specifically designed for men, and while there are products formulated for women in the John Varvatos line this is not one of them.
John Varvatos Eye Serum Pros and Cons
When a well known designer puts there name on a product it tends to instill trust that the product works extremely well.  It is still important to consider the benefits and drawbacks of the product in order to make a truly informed decision.  Here are some of the benefits of John Varvatos Eye Serum:
This product is recommended for all skin types
This is a well known brand known for producing high quality products
The price is right around the average for an eye serum at $45
There are a number of high quality natural ingredients included on the ingredients list
There are some drawbacks of this particular product that you need to be aware of as well, including:
This product is only for men, which technically is not a drawback if you are a man
None of the more powerful active ingredients like Hyaluronic acid and peptides are included on the ingredients list
Where To Buy John Varvatos Eye Serum
You have several choices when it comes to purchasing John Varvatos Eye Serum.  You can of course buy it from the company's website for right around the $50 price point.  This will also allow you to browse through the rest of the John Varvatos skin care collection.  Fine retailers like Nordstrom and Saks Fifth Avenue also offer the eye serum if you prefer to purchase the product in a physical store.
Conclusion
Skin care products specifically designed for males are few and far between.  John Varvatos recognized this gap and found a way to fill it with his skin care line specifically designed for men.  It is of note that the website does not go into much detail as to how exactly the ingredients in the eye serum work to reduce under eye puffiness, and diminish dark circles.  There is a pretty large emphasis on the fact that the noted designer John Varvartos backs the product, but to be perfectly honest for the price there are other unisex eye serums that will work just as well if not better than the John Varvatos option.
Have you tried John Varvatos Eye Serum?  Leave your review below!
User Questions and Answers
User Questions and Answers
No Questions Have Been Answered For This Article.