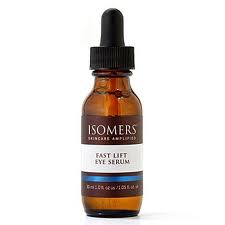 Isomers Fast Lift Eye Serum Review
Isomers Fast Lift Eye Serum Overview
The way that aging affects each woman's eyes is in large part due to heredity.  Some people get little laugh lines and crows feet.  Some get dark circles. And some women get droopy, or hooded eyelids as their skin ages and loses elasticity.  This is why there are so many different skin care products made specifically for eyes, and why they each have their particular niche or two that they try to appeal to.
Isomers Fast Lift Eye Serum is one of many eye serums made by Isomers.  As the name would suggest, this one claims to lift the skin around your eyes, thereby smoothing out wrinkles and lines and "pulling back" the dreaded droopy eyelids.  They say it makes your eyes look better immediately, and that it works over time to give your eyes a younger, fresher look with more taut skin.
We looked into the formula and read several customer responses to Isomers Fast Lift Eye Serum to determine how effective it really is.
Isomers Fast Lift Eye Serum Ingredients and How They Work
Isomers Fast Lift Eye Serum is a water based gel-like serum.  The specific ingredient that creates the immediate lifting is called Chondrus Crispus Extract.  It forms a thin film on the skin that pull it tight to lift lids and smooth out lines.  In addition, there are other components that help improve skin over time, like:
Aloe Leaf Extract for smoothing and soothing skin.
Glycerin and Sodium Hyaluronate for skin-identical moisture and to plump out the look of lines and wrinkles.
Palmitoyle Pentapeptide to help rebuild collagen to improve skin's support structure.
Isomers Fast Lift Eye Serum comes in an amber bottle with an eye dropper.  You should apply 2 or three drops to the entire area, smoothing it in gently above and below the eye.
Isomers Fast Lift Eye Serum Pros and Cons
There are always two sides to every story.  Knowing both sides about a product is a good way to determine whether or not it will be worth your time and money.
Advantages of Isomers Fast Lift Eye Serum
It has an immediate lifting effect.
The amber eye dropper dispenser will maintain the effectiveness of the ingredients.
It's fairly affordable.
There are several Isomers Fast Lift Eye Serum reviews from satisfied customers who say it makes them look fresh, awake, and young, especially women who deal with slightly hooded eyelids.
Disadvantages of Isomers Fast Lift Eye Serum
The primary effect of the lifting is only temporary, meaning that it is more cosmetic than actually corrective.
Isomers Fast Lift Eye Serum does nothing for dark circles.
Some customers claim it's done absolutely nothing for them.
Where to Buy
Isomers Fast Lift Eye Serum is available through ShopNBC and online.  The 1 ounce bottle sells for about $30.
Conclusion
I find it interesting to note that Isomers has several different serum formulas just for eyes, and several more for all the skin of your face.  What that means to me is that they want you to buy several different serums to address all the different issues you have with your skin.  If you bought separate Isomers serums for all your aging skin needs, your bathroom counter would disappear under all the amber bottles.  It appears as though Isomers Fast Lift Eye Serum has the ability to lift your eyelids temporarily.  If that's what you're after, give this one a try.
Have You Used Isomers Fast Lift Eye Serum?  Leave Your Review Below!
User Questions and Answers
User Questions and Answers
No Questions Have Been Answered For This Article.