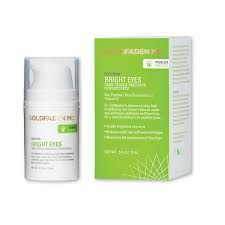 Goldfaden MD Bright Eyes Review – Does It Work?
Goldfaden MD Bright Eyes Overview
You can never have too many weapons in the fight against aging.  And that goes double for eye creams.  After all, it's our eyes that are the first thing people notice about us.  Until we find that one perfect product, our search goes on.  Today, we're looking at a new entry, Goldfaden MD Bright Eyes.  It's part of a new line of products from Dr. Goldfaden, a South Florida dermatologist who's created the first physician strength, dermatologist developed, natural skincare line on the market.
Goldfaden MD Bright Eyes uses natural ingredients to make light of dark circles, puffiness, lines and wrinkles.  Suitable for all skin types, it hydrates and firms, leaving the fragile skin around your eyes radiant and luminous.
Goldfaden MD Bright Eyes Ingredients and How They Work
The Goldfaden MD website doesn't get too detailed in its description of the formula, but it lets us in a few of the more meaningful particulars:
Soy Peptide and Rice Bran Extract have both been shown to reduce dark circles and puffiness.  They increase circulation, act as antioxidants to protect from free radical damage, and help regulate melanin production for lighter, brighter skin.
Vitamin K also helps get rid of dark circles by helping to break up blood that has pooled in the tiny capillaries under the thin skin under the eye.
Organic Red Tea is an antioxidant that protects skin from environmental damage, particularly sun damage.
Seaweed Extract helps reduce wrinkles.
Hyaluronic Acid is one of the most powerful hydrators we have.  It can attract and bind hundreds of times its weight in water.  This makes skin appear plump and dewy.
Mica is used to brighten skin with a bit of a shimmer.
For best results, you should pat a small amount around the eye area morning and night.
Goldfaden MD Bright Eyes Pros and Cons
Advantages of Goldfaden MD Bright Eyes
It was developed by a renown dermatologist.
There are no harsh chemicals.
Orders on the website come with a free sample product.
Disadvantages of Goldfaden MD Bright Eyes
It is not cheap.
Its availability is limited to spas, individually owned and operated specialty shops, and online stores.
Goldfaden MD Bright Eyes is too new to have any customer reviews to let us know if it works.
Where to Buy
The Goldfaden MD website has a store locator.  It offers plenty of online options, but not very many local retailers.  The price is pretty consistent at around $48 for a ½ oz pump.  There is a 14 day money-back guarantee, but it only applies to unopened, unused product.
Conclusion
We're pretty excited about Dr. Goldfaden's new line and this new Goldfaden MD Bright Eyes product.  The ingredients are all aimed at the specific goals necessary to improve the look of the skin around your eyes.  We're looking forward to trying Goldfaden MD Bright Eyes, and we think you should be too.
Have You Used Goldfaden MD Bright Eyes?  Leave Your Review Below!
How Women Found This Review:
and goldfaden md bright eyes
User Questions and Answers
User Questions and Answers
No Questions Have Been Answered For This Article.