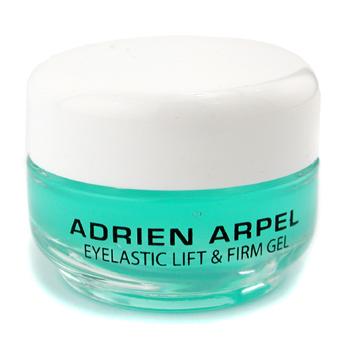 Eyelastic Lift By Adrien Arpel Review
Adrien Arpel Eyelastic Lift Overview
When the skin around your eyes start to sag it can make you look much older than you actually are.  In order to help solve this problem there are a number of products that can help you to improve the appearance of the skin around your eyes.  Eyelastic Lift is a skin lifting and firming gel that promises to reduce puffiness around the eyes reduce the appearance of dark circles.  The product is designed to be used along with another product produced by the company called Skinlastic. Adrien Arpel Salon is the listed manufacturer of the product, although the product website does not really offer very much information about the manufacturer.  The website unfortunately does not offer many product details, but with a little research this is what was found about Eyelastic Lift.
How Eyelastic Lift Works and Ingredients
The Eyelastic Lift gel works on all skin types and produces the best results when it is used daily.  The gel targets loose, saggy skin around the eyes and promises to firm and tone the skin. It also claims to treat puffiness and dark circles under the eyes.  With these big promises it would seem that the website would give a full list of the ingredients in the product, but no such list could be found on the company's site.  The site also does not offer any form of clinical trials in order to back up the claims about what the product is suppose to do.  These lacks make one somewhat wary about trying out this product.
Eyelastic Lift Pros and Cons
With a product that promises to work well for all skin types you may wonder how true the claim actually is.  Well if you consider the pros and cons of Eyelastic Lift you will be able to determine if it is worth your while to give the product a try.  Here are a few of the advantages that come from using this product:
The product moisturizes the skin extremely well
The gel is non-greasy and blends into the skin quickly
The price is right around average at $43
Along with these benefits there are some disadvantages that you should be aware of as well:
No ingredients list or clinical trials cited on the website
No refunds or money-back guarantees offered
Not many reviews of the product available online
Knowing these pros and cons will allow you to make an informed decision about whether or not to purchase this product.
Where To Buy Eyelastic Lift
You can only buy Eyelastic lift online.  There are a number of sites that you can visit to get a good deal on the gel, in fact, at a significant savings off the normal $43 price tag.  On Amazon the product has been offered for as low as $15.  There are no money-back guarantees associated with this product, so if you decide to try it you are doing it at the risk that you will not receive your money back if it does not work for you.
Conclusion
When it is hard to find information about the company that manufactures a particular product this is usually a sign that the product does not work very well.  When a company creates a quality product they are willing to stand behind that product.  Eyelastic  Lift makes great claims, but besides the little that you can find out about Adrien Arpel Salon there is also limited information about the Eyelastic Lift product itself.  The most glaring issue is the lack of an ingredients list.  If you are paying over $40 for a product you deserve to know what ingredients are in the product that you are purchasing.  If you are in the market for a new beauty product to help with the skin around your eyes you should probably pass on Eyelastic eye lift.
Have you tried Eyelastic?  Leave your review below!
How Women Found This Review:
and https://www womensblogtalk com/eyelastic-lift-by-adrien-arpel-review
User Questions and Answers
User Questions and Answers
No Questions Have Been Answered For This Article.