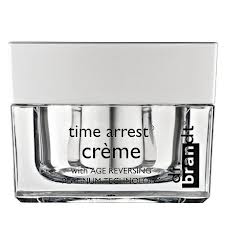 Dr. Brandt Time Arrest Creme Review
Dr. Brandt Time Arrest Creme Overview
"Age reversing platinum technology."  This is what Dr. Brandt Time Arrest Creme has that makes it so powerfully effective.  It lifts and firms skin, infusing it with more elasticity so you get a more sculpted, less sagging look.  Those are the promises, and quite honestly, we've had a bit of trouble finding customer reviews, so we'll have to depend primarily on our knowledge of the ingredients in order to figure out what to expect in terms of whether or not the promises are kept.
Dr. Brandt Time Arrest Creme Ingredients and How They Work
The Age Reversing Platimum Technology is based on the use of platinum nanoparticles to deliver the beneficial ingredients deep within skin where they are needed.  And those beneficial ingredients are:
Platinum Heptapeptide which helps stimulate collagen production and improve skin surface
Hydroxyprolisilane CN which improves cell and tissue renewal for fresher, more elastic skin.
Mamaku Vital Essence which encourages cell division to strengthen the outer layers of skin and increase its destiny.
D.S.H. CN  which is a derivative of hyaluronic acid for attracting and binding water for hydration and plumping out of wrinkles.
Isocell Life which protects against moisture loss.
Sweet Pea which firms and tightens skin.
Essenskin which fortifies fragile skin.
Dynalift which tightens and smooths skin.
Grape Seed Extract which provides antioxidant protection against damages caused by the environment.
Instructions are to use Dr. Brandt Time Arrest Creme morning and night on clean, toned skin.
Dr. Brandt Time Arrest Creme Pros and Cons
Knowing that there are good and bad aspects to all things, we always like to list out both sides before making a decision on a product.
Advantages of Dr. Brandt Time Arrest Creme
The couple of

Dr. Brandt Time Arrest Creme

reviews we could find were favorable.
It contains a wide range of anti-aging ingredients.
Disadvantages of Dr. Brandt Time Arrest Creme
It's expensive.
The jar packaging won't preserve the stability of the antioxidant ingredients.
There's not a lot of customer feedback to go on.
Where to Buy
You can purchase Dr. Brandt Time Arrest Creme online through a few different retailers.  The 1.7 ounce jar sells for $100.
Conclusion
There are a lot of fancily-named ingredients in this concoction.  This is true. But without real customer feedback, we're just not sure.  Another thing to consider is that Dr. Brandt has several different anti-aging lines all promising to be better than the last one.  It makes you wonder if there's really anything special about Dr. Brandt Time Arrest Creme.
Have You Used Dr. Brandt Time Arrest Creme?  Leave Your Review Below!
User Questions and Answers
User Questions and Answers
No Questions Have Been Answered For This Article.