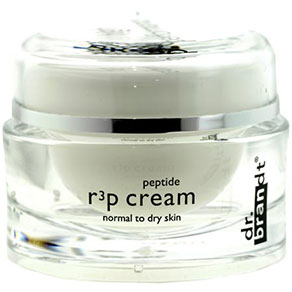 Dr. Brandt R3P Eye Cream Review
Dr. Brandt R3P Overview
Have you damaged the sensitive skin under your eyes by not caring for it properly?  There are ways to fix that damage and improve the appearance of skin.  Dr. Brandt R3P is an eye cream that promises to diminish the appearance of deep lines around the eyes, lighten severe dark circles, and repair damage caused by overexposure to the sun.  This eye cream also provides the skin under the eyes with much needed moisture which helps to restore the skin's healthy glow.  The Dr. Brandt website shows that there is a whole skin care line offered by the company with R3P product just one of many offerings that can help to improve the appearance of facial skin.
How Dr. Brandt R3P Works and Ingredients
R3P needs to be applied morning and night with a gentle massaging motion to the skin under the eye.  Regular use is the best way to see results.  One of the key ingredients of R3P eye cream is white tea, which is a powerful antioxidant that works well to protect the skin from free radical damage and can even help to improve existing skin damage due to sun.  Green tea is another ingredient that works in a similar manner to the white tea and prevents free radical damage because of its antioxidant properties.  Caffeine is an anti-inflammatory that reduces puffiness and stimulates circulation.  A lack of collagen is one of the reasons that the skin under the eyes starts to sag and Vitamin C helps to support the body's natural production of collagen.
Dr. Brandt R3P Pros and Cons
Does Dr. Brandt R3P live up to all the great claims that it makes?  Well one way to determine if Dr. Brandt can help with your specific problems is to consider some of the pros and cons of the product.
Advantages of this product include:
Several natural ingredients that research has shown help to promote skin health
Available from a variety of sources
Works best at reducing under eye puffiness
Provides much needed moisture to the skin under the eyes
Disadvantages of this product include:
The product is expensive at $80
Takes a month or so to see a really dramatic improvement
Most product that promise results in seconds or minutes do not live up to their claim, so the fact that this product points out that it takes bout a month to see results is actually kind of a statement toward the  honesty of the manufacturer.
Where To Buy Dr. Brandt R3P
As pointed out earlier there are a number of places where you can purchase Dr. Brandt R3P at the $80 price tag.  If you prefer to purchase products online you can visit the Dr. Brandt website or Amazon to buy the product.  For those who are wary of shopping online R3P can also be purchased at your local Sephora beauty store.
Conclusion
One nice thing about the Dr. Brandt website is that there are several nice reviews that support how effectively the product works.  Having said that there are products that work just as well at a lower price point.  While Dr. Brandt R3P lives up to most of its claims there is nothing revolutionary enough about the product to merit the $80 price tag.  Sephora offers free samples of the product in store from time to time, so if you really want to determine if you should give the product a try you should try to get a few sample packs and try out the eye cream to see how well it works for you before you decide to make the $80 investment.
Have you tried Dr. Brandt R3P? Leave your review below!
User Questions and Answers
User Questions and Answers
No Questions Have Been Answered For This Article.