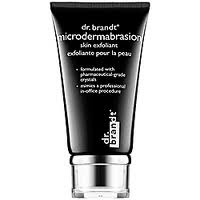 Dr. Brandt Microdermabrasion Review – Is It Worth It?
Dr. Brandt Microdermabrasion Overview
There are lots of reasons to treat your skin to microdermabrasion.  It sloughs off dead skin cells to reveal a smoother, fresher, brighter look of the skin below.  It also makes your skin better able to receive and absorb the other products you use to beautify your skin.  And of course there's one big reason not to treat your skin to microdermabrasion.  Salon and doctor's office visits are expensive.  The solution –  Dr. Brandt Microdermabrasion.  It's an at home microdermabrasion kit in a tube.  And while it's not cheap, it is a lot less expensive than visiting an office.
According to the company's product information, Dr. Brandt Microdermabrasion, the Allure Best of Beauty Best Scrub Winner for 2012, will give you results that are on par with those you receive from a professional treatment.  Results are the minimization of fine lines and wrinkles, a reduction in acne scars and skin discolorations, and a smooth, radiant, healthy glow.
Dr. Brandt Microdermabrasion Ingredients and How It Works
The primary active ingredients in Dr. Brandt Microdermabrasion are:
Aluminum Oxide Crystals which gently remove and polish away dead skin cells.
Lactic Acid which acts as a chemical exfoliant to sweep away dead skin cells and soften the texture of your skin.
Botanical Blend of Jojoba, Aloe Vera, and Chamomile to soothe and refresh skin and keep it from getting irritated from the treatment.
The instructions are incredibly easy.  You simply massage it into damp skin for about 1 or 2 minutes and rinse.  The recommendation is that you use it 1 or 2 times per week, making sure to allow at least 3 days between applications.
Dr. Brandt Microdermabrasion Pros and Cons
If you really want to know whether or not a product is right for you, compare a list of its pros and cons.
Advantages of Dr. Brandt Microdermabrasion
A tube of Dr. Brandt Microdermabrasion contains several applications and costs about the same or less than one professional microdermabrasion treatment.
It contains soothing extracts to minimize irritation.
It won the Allure Best of Beauty Award in 2012.
Disadvantages of Dr. Brandt Microdermabrasion
Though cheaper than professional treatments, it's still pretty expensive.
A look at Dr. Brandt Microdermabrasion reviews from customers shows that many are disappointed in their results, especially considering the cost.
Where to Buy
You can find Dr. Brandt Microdermabrasion online and in beauty supply specialty stores.  You should be able to get the 2 oz tube for about $75 just about wherever you go.
Conclusion
We love that skin care companies are making products that let us bring salon treatments into our bathrooms at home.  But that doesn't mean we're willing to pay large sums for minimal results.  Reviews show that Dr. Brandt Microdermabrasion doesn't really live up to its claim of offering results parallel to the professionals.  So to us, spending $75 on it doesn't seem like a good value.
Have You Used Dr. Brandt Microdermabrasion?  Leave Your Review Below!
User Questions and Answers
User Questions and Answers
No Questions Have Been Answered For This Article.