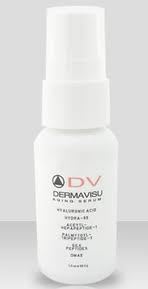 Dermavisu Review – Should You Try It?
Dermavisu Overview
When you call yourself the number 1 rated wrinkle serum in the world, you'd better be able to deliver.  Dermavisu not only claims to be number one, it also says it's better than Botox and is the "revolutionary new anti-wrinkle miracle serum that's taking Hollywood by storm".
Okay, that's the anecdotal stuff.  Here's the nitty gritty.  The appearance of lines and wrinkles will be reduced by:
37% in 2 weeks
150% in 4 weeks
512% in 12 weeks
The website is loaded with testimonials from thrilled customers who say things like:
"I look at least 10 years younger and I've only been taking it for 2 months."
"Dermavisu is a miracle in a bottle."
"My old frown lines that I thought were permanent look like they've been filled in and aren't even noticeable anymore."
Dermavisu Ingredients and How They Work
Okay so those are the claims.  Let's take a look at what's in this stuff:
Hydronium 55 is a proprietary water that's filled with hydronium which neutralizes free radicals and performs the action of antioxidants in relation to minerals, electrolytes, and vitamins.
Snap-8 is a peptide much like Argireline.  It reduces wrinkles formed by contractions of facial muscles, especially in the forehead and the area around the eyes, making it function similarly to Botox.
SYN-COLL is a peptide that helps encourage the production of collagen.  It's shown a 350% improvement in the appearance of wrinkles in studies.
DMAE is a cell membrane stabilizer that makes skin appear firm.
Franckinscense rejuvenates aging skin and calms inflammation.
Jojoba is an easily absorbed moisturizer that increases skin's smoothness and suppleness.
It is recommended that you apply half a pump of Dermavisu to your face and neck twice daily.
Dermavisu Pros and Cons
Advantages of Dermavisu
It contains some cutting edge ingredients like Hydronium 55 and Snap-8.
There is a 90 day money-back (less shipping) guarantee that applies to 1 used bottle and all unopened ones.
The FAQs section of the website is somewhat informative.
Disadvantages of Dermavisu
It is expensive.
The website is hyped and offers questionable claims with nothing to back it up.
You can only buy it from the official website.
We couldn't find any Dermavisu reviews from actual customers anywhere other than on the website.
Where to Buy
You can only purchase Dermavisu through the official website.  The full advertised price is $250 a bottle.  But there's currently a ½ price offer so a bottle sells for $125.  We suspect this sale is always on, though we don't know this for certain.  The FAQ section of the website says that a bottle lasts for 3 months if you use it twice a day.   The satisfaction guarantee is good for 90 days, so if after using just about a whole bottle, you don't find you like it, you can return it for a refund.
Conclusion
We look at lots of skincare products, and they all claim to be the best.  Dermavisu is particularly brazen when it comes to making claims and not backing them up.  They talk about wrinkles being reduced by such-and-such percent, but don't reference any particular studies.  On top of the suspicious claims (and the fact that they didn't bother to check the spelling of frankincense), Dermavisu is pretty darn pricey.  Our gut feeling is that this product is more about hype and promotion than it is about quality wrinkle reduction.  If you feel differently, make sure you take advantage of the guarantee in case you end up disappointed.
Have You Used Dermavisu?  Leave Your Review Below!
User Questions and Answers
User Questions and Answers
No Questions Have Been Answered For This Article.