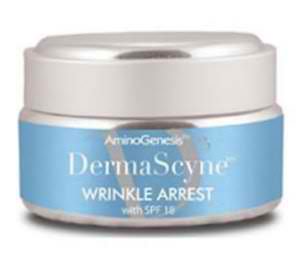 DermaScyne Wrinkle Arrest Review – Are You Wearing Sunscreen?
DermaScyne Wrinkle Arrest Overview
DermaScyne Wrinkle Arrest is cream that helps reverse the signs of aging and sun damage. It is also SPF 18 for daily wear. Even if you stay mostly inside for work or even play, it is still important to wear a daily cream with SPF in it to protect you from the sun. DermaScyne Wrinkle Arrest is the perfect cream for just that.
How DermaScyne Wrinkle Arrest Works
DermaScyne Wrinkle Arrest uses seventeen different amino acids that have been taken from plants to give it its potency. It has been clinically proven to increase the production of important proteins that include collagen and elastin. DermaScyne Wrinkle Arrest also helps to keep the skin hydrated and the potent antioxidants within the cream will help reverse and prevent damage caused by the sun and elements.
The main ingredient lists includes Octinoxate 7.00%, Oxybenzone 2.00%, Avobenzone 2.00%, Purified Water, Stearic Acid, Glyceryl Stearate, C12-15 Alkyl Benzoate, Glycerin, Cetyl Alcohol, Camellia Oleifera Leaf Extract, Retinyl Palmitate, Cholecalciferol, Tocopherol, Aloe Barbadensis Leaf Extract, Lysine HCl, Histidine HCl, Arginine HCl, Aspartic Acid, Threonine, Serine, Glutamine, Proline, Glycine, Alanine, Valine, Methionine, Isoleucine, Leucine, Tyrosine, Phenylalanine, Acetyl Tyrosine, Polysorbate 60, Sorbitan Sesquloleate, Carbomer, Triethanolamine, Phenoxyethanol, Methyparaben, Propylparaben, Disodium EDTA and Fragrance.
DermaScyne Wrinkle Arrest Benefits
DermaScyne Wrinkle Arrest not only keeps the skin hydrated but it maintains it as well.
It can be reasonably priced for a one ounce jar depending on where you purchase it.
There is a full list of ingredients.
It contains SPF 18.
DermaScyne Wrinkle Arrest Drawbacks
There were very few reviews about DermaScyne Wrinkle Arrest.
It is made by AminoGenesis and they don't even have it on their website.
It is only one ounce and the lowest price found was for $26.
Where to Buy DermaScyne Wrinkle Arrest
DermaScyne Wrinkle Arrest is currently sold only in online stores thought it is not sold on the AminoGenesis website. You may purchase it at Amazon, ariva.com, skinstore.com, shopping.yahoo.com, beautybridge.com and truthinaging.com.
Recommendation
DermaScyne Wrinkle Arrest is a wrinkle cream that is sold in quite a few online stores. The price ranges from the mid-twenties to in the forty dollar range, so you would want to shop around to find the best price for this one ounce jar. It says right on the jar that it is made by AminoGenesis, but it is no where to be found on the main website. That is quite frustrating.
This has been the only wrinkle cream so far that has any SPF in it, which is wonderful. Daily SPF is very important, even if you don't spend a lot of time outside. Just going to and from your car can give you sun damage, especially if you have fair skin. If you have the money, then try it out and let us know, since there are not a lot of reviews out there.
Have You Used DermaScyne Wrinkle Arrest? Leave Your Review Below!
User Questions and Answers
User Questions and Answers
No Questions Have Been Answered For This Article.