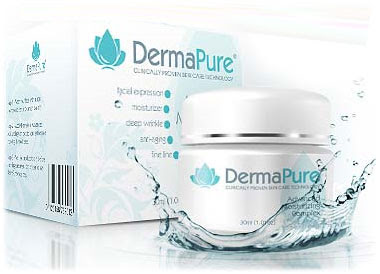 DermaPure Advanced Moisturizing Complex Review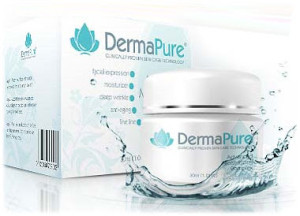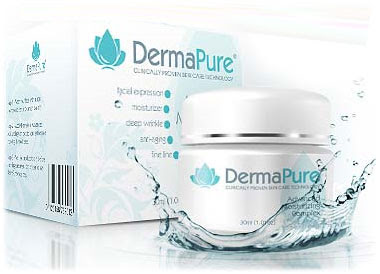 DermaPure is a supposed advanced anti aging serum that has an advanced moisturizing complex designed to help you look 10 years younger in 4 weeks.
We see these kind of claims all the time, and we generally get a chance to try out many of the wrinkle creams that make these claims.  So what makes DermaPure any different?
Well, we decided to learn all we could about this particular skin care treatment, and researched through dozens of review sites, and related materials to find out all we could about this complex moisturizer.
What is DermaPure Advanced Moisturizing Serum?
According to the sales page of DermaPure, their revolutionizing breakthrough technology is supposed to help you see a 60% decrease in the appearance of fine lines and wrinkles after just 4 weeks.
They also claim 500% gains in the moisture of your skin, but we find it amazing that they even have a technology that can even measure that!
There are several before and after photos from women who have "supposedly" used Dermapure, and yet to us, they merely look like airbrushed photos of models.  There is no evidence that these reviews are even real, simply because there are no written testimonials or other physical proof.
The ingredient list in Dermapure includes polymoist-ps complex, which is actually found in several other wrinkle creams such as Radialabs and Dermalift.
To their benefit, there is some evidence that shows this ingredient, which is a peptide, has a firming effect on the skin, and can tighten loose and wrinkly skin.
This product also contains saccharide isolarate and vitamin e, which are supposed to work as potent anti-oxidants.  Rounding out the ingredient list is cocoa and shea butter, which is used to provide a nice scent to the formula.
Problems with Dermapure
The issues we found with Dermapure were the numerous complaints from customers who felt like they had been scammed.
Like many of the other products we have reviewed, DermaPure appears to be offered as a short-term free trial. They also make huge claims and don't back them up with clinical trials.
You can try the product "risk free" for 14 days, and then you will be charged for the full price of the product which is roughly $89.
Like most things in life, this free trial is not so free and you must be careful when entering into any free trial.
14 days is hardly enough time to receive the product much less be able to try it for any length of time to determine whether or not you like it.
Mos people who accept the free trial have no idea they are entering into an auto-ship, auto-bill arrangement to receive the cream every 30 days and $89 with each shipment.
Comments on DermaPure on The Rip Off Report
Here is an actual comment left on the popular website The Rip Off Report, and there are many more like it:
"This company offers free trial and free shipping on their product.  But wait, the product will work better combining it with another product.  Not only was the product not free ( I had 2 charges of over $90. each on my credit card before I could catch up with them), the shipping wasn't free either.

And furthermore, even though they are an Arizona company, my charge was processed through Canada and incurred a foreign transaction fee.  This also seems a bit shady.

My husband received no fewer than 3-4 calls from this company on our home phone demanding to speak with me, also not appreciated.  As for the companion "wonder product", I was never able to access it I feel that DermaPure was fraudulent in its offer and that the whole company is a scam!"
Where To Buy DermaPure Advanced Moisturizing Complex?
For a long time DermaPure was heavily marketed, but they do not have an official website. When searching for this product, some sites now say that the product is unavailable, or the offers lead you to the sales page of an entirely different cream.
More likely, Dermapure has changed their name and packaging and it's running under a completely different wrinkle cream scam which is typical of these types of products.
Dermapure Q & A
Q: I've been searching for Dermasoft reviews, is this the same wrinkle cream as Dermapure?
A: Dermasoft appears to be a similar product and it may be the same company who offered Dermapure. More often than not, we see these types of wrinkle cream trials change their name slightly, and start new campaigns once consumers catch on and start complaining online that they've been scammed.
In fact, we've been able to find Dermasoft reviews, Dermasoft Skin Restore reviews, and a combo free trial offer for Dermasoft and Purecell Anti Aging creams with almost the identical sales pages, terms and conditions, even using the same photo-shopped model pictures to sell their products as we saw with Dermapure.
Recommendation
Don't accept free trials of this nature, it's always better to buy a cream outright that has a money back guarantee.
My top cream Kollagen Intensiv is very effective, I've used it for over 4 years with great results! It's worth a look.
We recommend against purchasing DermaPure, Dermasoft, Dermasoft Skin Restore, and also the combo offer for Dermasoft and Purecell due to the high amount of customer complaints we found online all pointing to the fact that these are all just short-term free trial wrinkle cream scams.
We don't like companies who deceive their customers in order to make a quick buck. And in this case, it's more to the tune of $90, and double that if you were swayed into buying their companion product. Just take a look at the comments below left by upset customers!
To educate yourself further on these scams, read my post Beware of Free Trials for Anti-Aging Products, an Investigative Report so you'll know what to look for and what to avoid when you see their ads online.
Have You Used Derma Pure?  Leave Your Review Below!
How Women Found This Review:
and https://www womensblogtalk com/derma-pure-anti-aging-serum-review, and dermasoft reviews, and Absolute derma reviews, and pure derma face serum
Click here to submit your review.
---
SCAM!!!
DermaPure Advanced Moisturizing Complex Review
Huge scam!!! Advertised to pay S&S only for product by [email protected]. charged 99.74 after having 14 days. I called for a refund and was offered 30%, then 50% off or send the trial product (that's supposed to be unopened) back. Hard to try the product without opening it! they would not return the charge at all. They hung up on me 5x in total…crock of BS!!! Beware!

---
DermaPure or PureCell
DermaPure Advanced Moisturizing Complex Review
I just had that awful experience if being scammed by this company and its product. Buyer beware is so true! I placed a order for a "free" product which was not actually free. Can you say oxymoron? They explained to me the product was free for 14 days. Their shipping email said "16 days". I pointed out today is 16th day from shipping. Turns out it's 16 from ORDERING. Total scam. The product doesn't even do what they said. They're sending me a "complementary" cream. There's no remedy for the $89.95 charges!!!!

---
User Questions and Answers
User Questions and Answers
---
Q: Dr. Oz is signing his name to Purcell and dermasoft-will not watch his show again! Any input on dermalift? -donna
A:
Donna, Dr. Oz does not actually endorse ANY wrinkle creams. Purcell and Dermasoft are both scams, plagiarizing fake quotes from Dr. Oz . Dermalift is in the same category, I do not recommend. It's a 14 day trial and they don't post their ingredients, and do not have any clinical trials to back their product. Probably made in Panama or Pakistan like the rest of those short term free trial scams. ~Rachel
Was this question helpful to you?
5 out of 5 people found this question helpful.
---
Q: I got scammed too, now does any won know if I will be getting this autoshipped ever month....how do I get out of this Grrr!!!! -Marlene
A:
Marlene, yes you will be sent new product every 30 days and billed again until you call and cancel. Here is an article posted on the BBB website about the consumer complaints with Dermapure. I have never been able to find an actual phone number for Dermapure as hard as I've tried. All the links flip to new scams. If you can't find a number on your credit card statement, I would contact your bank and report it as fraud and see if they'll block future charges. Show them this BBB article if they want proof. There is no way to contact Dermapure. Rachel~WomensBlogTalk.com
Was this question helpful to you?
4 out of 5 people found this question helpful.
---
Q: When do you apply product -Dolores
A:
Dolores, most creams it would be am and pm before bed :) Rachel
Was this question helpful to you?

---