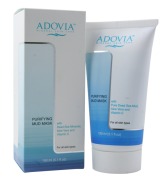 Dead Sea Mud Mask Review – Does It Work?
Dead Sea Mud Mask Overview
If you have problem skin you have likely tried a number of different products to help keep your acne break outs under control.  Finding a product with the right balance of ingredients to take care of your sensitive skin can be difficult.  The Dead Sea Mud Mask by Adovia can help those with problem skin to reduce the number of acne flares they experience.  The mud mask also makes a great emergency treatment for problem areas on the face.  Adovia's focus on natural ingredients in their products can be clearly seen on the company's website.  It goes into detail about the healing and restorative powers of Dead Sea mud and how it can benefit you.
How Dead Sea Mud Mask Works and Ingredients
The combination of ingredients in the Dead Sea Mud Mask works to extract the oils and other harmful elements from the skin.  The result is that the skin looks refreshed and has a healthy glow after using the mask.  Toxins and impurities in the skin can clog pores and make breakouts more severe.  The mud mask gently cleanses the skin and helps to remove these harmful toxins.  One of the natural ingredients in the mask is of course mud extracted from the Dead Sea.  Research has shown that this mud helps to cure skin imperfections.  Other ingredients that help the skin include chamomile and aloe vera extract which is an anti-inflammatory.  The mask also includes several Vitamins, including Vitamin A and Vitamin C which have been shown to help restore skin health and elasticity.
Pros and Cons
Before purchasing a new beauty product for the first time it is important to weigh the pros and cons to see if the product is ideal for you.  The Dead Sea Mud Mask, like all beauty products, has pros and cons that make it ideal for some individuals and not the best choice for others.
Advantages of this product include:
A large number of natural ingredients
Suitable for all kinds of skin types
Works quickly to reduce the appearance of acne flares
Very reasonably priced at around $30
Disadvantages of this product include:
You will need to set aside some time to use the product for maximum effectiveness (at least 30 minutes)
The product works best when use along with Adovia Mud Soap and Adovia Exfoliating Facial Salts, which have to be purchased separately
Where To Buy Dead Sea Mud Mask
The Dead Sea Mud Mask can be purchased from a variety of smaller online retailers as well as Amazon.  Most stores offer the mud mask for right around $30 with an occasional special being offered on Amazon.  Most of the reviews on the Dead Sea Mud Mask support the fact that it works well in improving the appearance of skin, especially in those who suffer from regular acne flares.
Conclusion
There is no reason that your daily beauty process cannot be relaxing at the same time.  Spending an hour taking a long shower before you apply the mud mask and relaxing for another half hour while you allow the mask to work its wonders can really revive the spirit as well as improve the skin's appearance.  You will be hard pressed to find a product that more effectively meets its claims at such a reasonable price.  The natural ingredients in the mud mask mean that the likelihood of adverse side effects is pretty low.  If you have tried several products to help you cope with your acne without success you should definitely give the Dead Sea Mud Mask a try to see if it works for you.
Have you tried Dead Sea Mud Mask?  Leave your review below!
How Women Found This Review:
and Dead Sea Mud Mask Review
User Questions and Answers
User Questions and Answers
No Questions Have Been Answered For This Article.