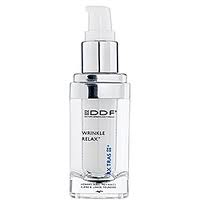 DDF Wrinkle Relax Review – The Botox Alternative?
DDF Wrinkle Relax Overview
DDF, short for Doctor's Dermatologic Formula is a skin care company dedicated to using powerful ingredients to combat real skin problems encountered by women every day. They profess the idea that choosing and using select skincare ingredients will allow you to rewrite your skin's future.
DDF Wrinkle Relax, part of the Anti-Aging Restorative line of products, is a silky serum designed to reduce the appearance of fine lines, wrinkles, and crow's feet caused by repeated facial movements.  In other words, DDF Wrinkle Relax thinks of itself as a non-surgical answer to Botox injections or dermal fillers.
DDF Wrinkle Relax Ingredients and How They Work
The idea behind DDF Wrinkle Relax is that it works in three ways.  It softens the skin with superior hydration.  It plumps the skin by increasing collagen.  And it prevents expression lines by relaxing the facial muscles.
There are three main ingredients to make these three things happen:
Hyaluronic Acid to hydrate and plump skin.  This compound attracts many more times its weight in moisture so skin looks dewy and plump.
Peptide Complex to help rebuild fibrin and collagen so skin is firmer, more taut, and more resilient.
Argireline which is also a peptide, but this one helps relax facial muscles so you're not creating more wrinkles with your expressions.
You should apply a thin layer of the silky serum to clean skin once in the morning and once at night.  Results are expected in about 60 days.  Once you do achieve the results you want, you only need to apply it once a day, either morning or night, for maintenance.
DDF Wrinkle Relax Pros and Cons
As with all things, DDF Wrinkle Relax has its good and bad points.  Let's take a look at both.
The Good About DDF Wrinkle Relax
It is made by a reputable company.
It contains some good anti-aging ingredients.
Some women have found success with it.
It enjoys wide availability.
The Bad About DDF Wrinkle Relax
It is expensive.
The active ingredients may be present in amounts too small to achieve much of an effect.
There are plenty of lackluster DDF Wrinkle Relax reviews floating around the internet.
Where to Buy
You've got lots of options here.  The DDF website sells a ½ oz pump for $88.  Sephora online has the ½ oz pump for the same price and includes free shipping.  We saw it at Amazon for $86.  The price is pretty close wherever you go, so a quick look around will probably be enough to get your best deal.
Conclusion
We'd have to say DDF Wrinkle Relax is probably not worth its high price tag.  The ingredients are decent, but they're nothing you can't find in many other, less expensive anti-aging products.  The many reviews showing no or minimal results don't help their case either.  If we're going to spend this much of our beauty budget on one product, it had better deliver.  And we just don't see that DDF Wrinkle Relax does.
Have You Used DDF Wrinkle Relax?  Leave Your Review Below!
User Questions and Answers
User Questions and Answers
No Questions Have Been Answered For This Article.