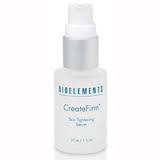 CreateFirm Skin Tightening Serum Review
CreateFirm Skin Tightening Serum Overview
We're all looking for that needle-less alternative to Botox, am I right? Well, there's no shortage of contenders, that's for sure. Some definitely work better than others. Some work not at all. The one we're looking at today is CreateFirm Skin Tightening Serum from Bioelements. When we first started looking at this stuff, we tried to find customer reviews. They were extremely scarce. I wonder if this indicates that not many people are using it. We'll keep that in mind as we move on.
CreateFirm Skin Tightening Serum promises to put up a good fight against the signs of aging that include wrinkles and sagging skin. And it does it both immediately, with tightening agents and over the longer term with good, healthy-skin anti-aging ingredients. Next we'll take a look at what those are.
CreateFirm Skin Tightening Serum Ingredients and How They Work
CreateFirm Skin Tightening Serum uses Pullulan to make skin appear smoother and more wrinkle-free. It forms an invisible film over skin that pulls it tight, like the effect of a facelift, only temporary.
The ingredients on the list that work to make you look better and younger over time include:
Oat Kernel Extract which is an anti-irritant and anti-inflammatory agent.
Glycerin for skin-identical hydration.
Several Ceramides to shore up the skin's moisture barrier.
Several Plant Based Antioxidants to protect skin against environmentally induced effects of aging.
Instructions are to apply to face and neck in an upward motion, after cleansing and before applying moisturizer and sunscreen.
CreateFirm Skin Tightening Serum Pros and Cons
We always like to make sure we cover all the good points and all the bad points for the products we talk about.
Advantages of CreateFirm Skin Tightening Serum
It's made by a respected company.
It provides instant tightening as well as long term benefits.
The pump dispenser will ensure that the antioxidant ingredients will remain fresh.
Disadvantages of CreateFirm Skin Tightening Serum
It's pretty expensive.
There are almost no CreateFirm Skin Tightening Serum reviews online to help us figure out how well it works.
Where to Buy
You can purchase CreateFirm Skin Tightening Serum through lots of online skincare stores. The one ounce pump sells for $62.
Conclusion
I'm always a little skeptical about these products that promise to instantly remove wrinkles by tightening your skin. Some of them may do what they say, but they truthfully, they sometimes look cakey and/or gummy. I don't know if this is the case with CreateFirm Skin Tightening Serum because this is the kind of thing you learn from customer reviews, of which there are none. So, I'm still on skeptical because nothing has happened to convince me. In the end, $62 is too much to spend on something you can't be sure of, so I'd skip it.
Have You Used CreateFirm Skin Tightening Serum? Leave Your Review Below!
User Questions and Answers
User Questions and Answers
No Questions Have Been Answered For This Article.