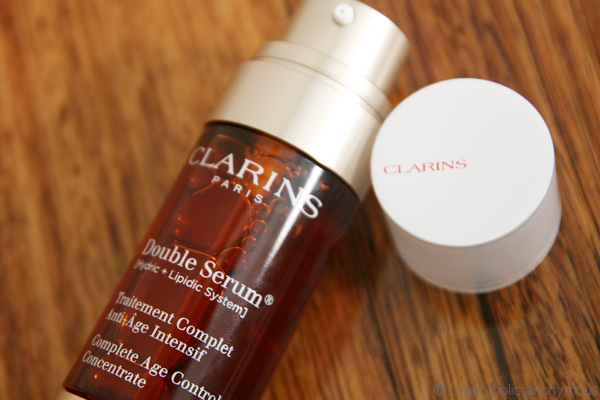 Clarins Double Serum Review – What's the Buzz About?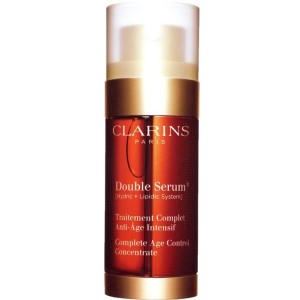 Let's talk about Clarins Double Serum, and all the buzz that comes with it! First off, let's start with the awards! Clarins Double Serum has been recognized as one of their Very Best Essential Beauty Products in Elle magazine, Essence Best in Black Beauty Awards 2013, and Star Beauty Awards 2013.
That's saying a whole lot! Clarins sure does know how to make skincare. This French line has been making luxury skincare since 1975. This particular age defying Clarins product for all skin types, claims to keep your skin hydrated, prevent wrinkles and fine lines, even out your skin tone, and minimize the appearance of pores. We are going to take a look at the ingredients, the pros and cons, and what women are saying about Clarins Double Serum.
Clarins Double Serum Ingredients
Organic Green Banana –  Firms and smooths skin; reduces wrinkles
Pistachio – Protects the skin
Kiwi Extract– Gives the skin a supple feel and boosts nutrition
Maritime Pine and Organic Musk Rose Oil – Keeps the skin radiant and glowing
Katafray Extract and Hyluronic Acid Complex – Comforts the skin and restores skins water reserve
Lemon Thyme and Bocoa – Helps visibly reduce wrinkles and lack of firmness
Powered by 20 pure plant extracts and potent, high-tech molecules, Clarins award-winning bestseller combines two age-defying formulas into one groundbreaking serum that supports skin's natural, vital functions. In as little as four weeks, you'll see firmer skin, reduced appearance of wrinkles, a more even skin tone, and less visible pores.
The instructions are to warm one drop between hands and apply to a clean face, neck and chest with gentle pressure. Follow with a day or night time moisturizer.
Clarins Double Serum Pros and Cons
Like any product you are considering to purchase, it's good to do some research to see what's included in the ingredients to see if there are any known irritants to your particular skin type that you know about, and also to see what others are saying. Like any product using botanical ingredients, it usually has a very nice smell, but for people with sensitive skin it could cause irritations.
Clarins Double Serum Pros
Does not contain any parabens, sulfates, or phthalates
Nice botanical fragrance
Firmer skin
Less visible pores
The dual chambers gives the active ingredients the ability to work more efficiently
Pump distributes products evenly
All skin types
Clarins Double Serum Cons
Fragrance was overwhelming
Didn't work for oily skin
Felt sticky or oily
Skin breakouts
Expensive
Complaints that the separate pumps are gimmicky
Where to buy Clarins Double Serum
You can find Clarins Double Serum at most major department stores including Macy's, Dillard's and Dillard's.com , Nordstrom and Nordstrom.com, Bloomingdales and Bloomingdales.com. It is also available on Sephora.com and Sephora stores, Amazon.com, and Clarinsusa.com. Clarins Double Serum ships free on Sephora.com, and Clarinsusa.com with the average price being $85.00 for a 1.6 oz. bottle.
Conclusion
A majority of women claimed that Clarins Double Serum made their skin feel firmer, wrinkles less noticeable, and their pores less visible in 4 weeks. Fans claim that once they started using the serum, after about 10 days they started to receive compliments on their skin like they never have. All of a sudden they were asked what they were doing different because they were glowing or their skin appeared so radiant. Who doesn't want to hear those compliments? If you're going to spend $85.00 on a skincare product, you're going to want people to notice.
Most women say that they would definitely buy the product again. If I were to get compliments like that for a product, I would buy it a again too. It's also been said by many that the fragrance was very appealing, at the same time, many said the fragrance was too much for them.  90% of women found it to be more effective than their current serum.  The product is also relatively easy to find. Overall, Clarins Double Serum has exceeded most women's expectations so we concur that it's worth a try! You may be able to get a sample from the Clarins counter before you take the plunge to purchase the full sized amount.
Have you used Clarins Double Serum? Leave your review below!
Click here to submit your review.
---
Clarins serum
Clarins Double Serum Review – What's the Buzz About?
Severe reaction to clarins serum - itchy, dry, red patches on face. My Dr. put me on a mild cortisone cream to clear skin. Don't know what the serum contains - nasty stuff.

---
User Questions and Answers
User Questions and Answers
---
Q: Have you or others used this product... Bella Rose Rx ...What are the ingredients in this product? Does this product actually work? -Angela Wilson
A:
Angela, Bella Rose RX is a free trial scam, I would avoid it at all costs. Rachel
Was this question helpful to you?

---