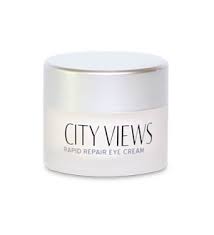 City Views Rapid Repair Eye Cream Review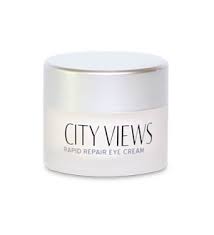 First off, I can't stress enough the importance of using a separate eye treatment. If you've read any of my reviews before, you know that this should be a vital step in your daily skincare regimen. The area around the eyes is very thin and lacking in oil glands, leaving the skin especially dehydrated. The eye area is also the area that ages the fastest, so don't skip this very important step!
Let's talk about City Views Rapid Repair Eye Cream. This one claims to do it all and says it is suitable for all skin types. City Views Rapid Repair Eye Cream absorbs quickly and has a rich, lightweight feel. It penetrates to hydrate, nourish and protect the sensitive eye area and restores the skin's youthful radiance. With exclusive anti-aging technology, City Views is clinically proven to give you younger looking eyes.
City Views Rapid Repair Eye Cream helps to diminish fine lines, wrinkles, puffiness, and dark circles. It comes in a .5 oz jar, and regularly sells for $67.
City Views Rapid Repair Eye Cream Ingredients
Argireline – Trains the facial muscles to relax for a botox like effect with a smaller price tag, leaving a less wrinkled appearance
Green Tea – Antioxidant that helps with environmental stress, calms puffy eyes, and leaves skin refreshed
Peptides – Boost collagen and elastin production, keeping skin healthy and fresh
Retinyl – Vitamin A derivitive that retains water, boosts collagen production, and cellular renewal
Matrixyl 3000 – Helps the body to synthesize collagen
City Views Rapid Repair Eye Cream Pros
Clinically tested
A little goes a long way
Lightweight, non-greasy texture
Reasonably priced
Not tested on animal
60 day money back guarantee with City Views Cosmetics
City Views Rapid Repair Eye Cream Cons
Unsanitary packaging causes bacteria to get trapped and ingredients to no longer be active
Hard to find
New skincare line with few reviews
Similar ingredients can be found in less expensive eye creams
Some customers complain of an odd consistency
Some customers complain of the eye cream making their dryness worse
Where to Buy City Views Rapid Repair Eye Cream
You can find City Views Rapid Repair Eye Cream on the company website for $67 and a 60 day money back guarantee. You can also find it on Amazon for a lower price of $54.95.
Conclusion
All in all, I wouldn't personally spend my money on this product. With all the knowledge out there on the cons of packaging wrinkle creams in a jar, you'd think companies would be done with that by now. It defeats the purpose of the fancy ingredients. An airtight container in a pump or another style is definitely a preferred method of keep an eye treatment or cream fresh and  free of contaminants. If you do opt for an eye treatment, or any wrinkle cream for that matter, be sure you're using a small spoon to scoop it out so you can keep your fingers and germs out of the tub.  And what they claim as far as having "exclusive anti-aging technology" though is a bit misleading. They use a few ingredients which are actually popular right now in good products so I wouldn't consider it exclusive.
Products Similar to City Views Rapid Repair Eye Cream
One of my favorite eye treatments is Elite Serum RX. It is very similar to City Views Rapid Repair Eye Cream because it also contains Argirilene and Matryxl 3000, and other powerful peptides, however I prefer Elite Serum RX over City Views because the ingredients are preserved in an airtight container and it's a serum and not a cream, so your skin has the ability to absorb 10-15x the amount of active ingredients.  Check out our review right here on Womens Blog Talk!
 Have You Used City Views Rapid Repair Eye Cream? Leave Us Your Review Below!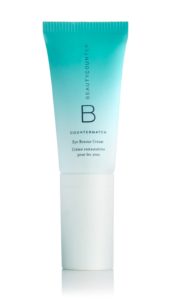 Formulated for the delicate eye area, this nourishing cream awakens eyes. Squalane hydrates skin, while betaine and phytic acid boost oxygenation to help reduce the appearance of fine lines and shadows for brighter-looking eyes. Breakthrough Bio-Mimic Technology harnesses the unique life-giving properties of plants to match the composition of skin, giving it precisely what it needs and nothing it doesn't.
User Questions and Answers
User Questions and Answers
No Questions Have Been Answered For This Article.