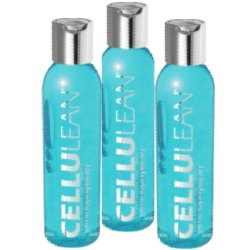 Cellulean Review – Does Cellulean Really Work?
Cellulean Overview
We come across alot of fads and short lived products while researching on the internet, and we have seen all types of wrinkle creams, acne creams, and more that promise the world.  There are not too many cellulite creams that are touted on the net', but Cellulean is one that is heavily promoted both online and off.  Targeting cellulite is never easy, and it can be quite frustrating after a pregnancy to even attempt to get rid of it.  Well, Cellulean promises to do just that, and do so in just a few weeks.  But how does it work?
What is Cellulean Cellulite Cream?
Developed by a gentleman by the name of Patrick Leddy, Cellulean is a natural alternative for cellulite treatment.  It works by helping to boost collagen production beneath the skin, which creates a firmer, more smooth skin after several days of usage.  The cream is easy to apply, and rubs in after just a minute or so, with no greasy residue or silk left behind.
Cellulean contains a number of potent ingredients, but the main one is called aminophylline, which was actually originally developed to treat asthma.  Sometimes referred to as "cutting gel", aminophylline has found a use in reducing body fat beneath the skin when used as a cream.  The other main ingredient in Cellulean is caffeine which is basically used to boost the effectiveness of the aminophylline, but these claims are still under investigation.
Our Results With Cellulean
Unfair Billing and Cellulean
It can be hard to find some genuine reviews of Cellulean, simply because there are so many people (affiliates) promoting the product, but if you know where to look you can find some.  We did some research through some discussion boards, and the majority of the reviews painted Cellulean in a negative light.  While most were impressed with the results they got, many were furious for being charged more than once for the product, a process known in the industry as rebilling.
The simple fact is you can protect yourself from getting overcharged if you know what to do.  First off, if you do decide to order a free trial of cellulean, mark down the date that you ordered it on your calendar.  Also, you will want to write down the number to cancel the product on the calendar, or somewhere else that you will remember where it is.  It took me about 4 days to receive my trial, so that leaves about 10 days to try it out.  You need to make sure that you save the packaging and that you have the cancellation number.
If you really like using it, but don't want to get rebilled for it, make sure you call them up and tell them that.  This way, you only get charged for the product that you have, and then you will get to use the rest of the bottle without having to send it back.
Recommendation
Cellulean truly does seem to work, but many believe that it is simply way too overpriced to even bother with.  The truth is, you need a cellulite cream that contains the same two primary ingredients found in Cellulean, aminophylline and caffeine.  Everything else is just a filler, and acts to make it smell and feel good.  There are plenty of other substitutes on the market that can help to reduce your cellulite, without spending a fortune or getting sucked into a rebill.  We have been using Cellulean for about a week and a half now, take a look at our video review above to learn about our results.
Have You Used Cellulean?  Leave Your Review Below!
User Questions and Answers
User Questions and Answers
No Questions Have Been Answered For This Article.