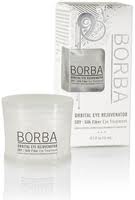 Borba Orbital Eye Rejuvenator Review – Does It Do the Trick?
Borba Orbital Eye Rejuvenator Overview
There are differing opinions about whether or not we need to use a dedicated eye cream.  On the one hand, if you just want to minimize fine lines and wrinkles and your eyes aren't particularly sensitive, then a good face cream should suit your purpose.  But if you have issues with dark circles, under-eye puffiness, or sensitivity, you can benefit from an eye cream designed to tackle these problems.
Borba Orbital Eye Rejuvenator is one option.  Borba has a whole line of vitamins, supplements, and topical skin care products.  The Borba Orbital Eye Rejuvenator is one of their more popular and well-liked  topical products. The lightly scented cream goes on smoothly, minimizes lines and crow's feet, reduces puffiness, and lightens dark circles.  According to the website, clinical testing has shown that 79% of women who use Borba Orbital Eye Rejuvenator report having improved smoothness around their eyes after 24 hours while 53% of women find they have fewer lines and wrinkles after 14 days.
Borba Orbital Eye Rejuvenator Ingredients and How They Work
Borba Orbital Eye Rejuvenator boasts the use of Soy and Silk in its formula.  Soy is a protein that has been shown to be an effective natural hydrator.  Silk fibers are used to strengthen the connective tissue of skin. This will help reduce puffiness as well as wrinkles.   Also included in the product are peptides to stimulate the production of collagen and skin brighteners to lessen the look of dark circles.
You should apply a small amount of Borba Orbital Eye Rejuvenator to the area all around your eye, including the lid, with your ring finger morning and night after cleansing.  The exclusive formula is non-irritating so it can be applied to all the skin surrounding the eye.
Borba Orbital Eye Rejuvenator Pros and Cons
Choosing the right product can be made easier if you consider the benefits and drawbacks side by side.
Advantages of Borba Orbital Eye Rejuvenator
A little goes a long way.
It address all the potential problems of skin around the eyes.
There are many glowing Borba Orbital Eye Rejuvenator reviews from happy customers.
They like the light scent and the silkiness, and they say it really does rejuvenate their eyes.
Disadvantages of Borba Orbital Eye Rejuvenator
The jar packaging encourages bacteria and may cause the ingredients to break down too quickly.
Where to Buy
There are lots of options for purchasing Borba Orbital Eye Rejuvenator.  You can find it at Ulta and some Walgreens stores.  Your online options include the Borba website, Amazon, and Beauty.com.  A ½ oz jar goes for around $38.
Conclusion
The price of Borba Orbital Eye Rejuvenator, while not exactly cheap, is pretty much in line with what you can expect to pay for a decent eye cream.  With the many many positive reviews from customers, we'd have to recommend that you try it if you find you need a dedicated cream for your eye area.
Have You Used Borba Orbital Eye Rejuvenator?  Leave Your Review Below!
User Questions and Answers
User Questions and Answers
No Questions Have Been Answered For This Article.