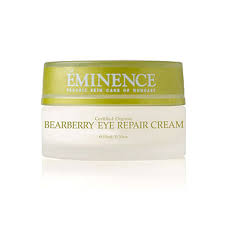 Bearberry Eye Repair Cream Review
Bearberry Eye Repair Cream Overview
Finding a natural, organic product that works really is a challenge.  While we tend to think that all we need for our skin can be found in nature, this is a somewhat romantic notion that doesn't always hold water.  So we usually find a compromise.  We go for natural products and ingredients when we can, realizing that sometimes you need that preservative to keep these products fresh or a man-made component or two to bring the results you want.
Eminence Organic Skincare is a brand that tries to stay true to their all-natural philosophy.  So can they do that and still offer great products?  Let's look at Bearberry Eye Repair Cream to find out.
The claims of Bearberry Eye Repair Cream are that it will revitalize and rejuvenate the contours of the eye while minimizing fine lines and wrinkles, and balancing moisture levels.  It brightens the look of tired eyes, while reducing puffiness, leaving you looking refreshed and awake.
Bearberry Eye Repair Cream Ingredients and How They Work
The formula is packed with organic ingredients and extracts:
Bearberry Extract for brightening skin and of course adding antioxidant protection.
Red Clover Extract for reducing the appearance of aging.
Parsley Seed Extract for improving radiance.
EyeBright reduces inflammation
Hop Extract calms and tones the skin.
You are instructed to apply Bearberry Eye Repair Cream in a thin layer, using blending movements to sweep in across the skin until absorbed.
Bearberry Eye Repair Cream Pros and Cons
Looking at what's good and what's bad about a product is a sure way to reach an objective conclusion about whether or not it's worth your time and money.
Advantages of Bearberry Eye Repair Cream
It contains several antioxidants.
The few Bearberry Eye Repair Cream reviews we were able to find are favorable.
Disadvantages of Bearberry Eye Repair Cream
It's expensive.
The jar packaging essentially means that the antioxidant ingredients will become unstable and ineffective shortly after opening the jar.
We couldn't find many Bearberry Eye Repair Cream reviews.
Where to Buy
You can purchase Bearberry Eye Repair Cream through online retailers.  The ½ ounce jar retails for $70.
Conclusion
While we like the idea of organic, a product still has to work and to last.  It would appear that Bearberry Eye Repair Cream doesn't live up to this standard.  For that reason, I won't recommend it.  A combination of natural and chemical ingredients is probably the best bet.
Have You Used Bearberry Eye Repair Cream?  Leave Your Review Below!
User Questions and Answers
User Questions and Answers
No Questions Have Been Answered For This Article.