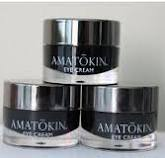 Amatokin Eye Cream Review – Secret Formula?
Amatokin Eye Cream Overview
Every once in a while, something revolutionary happens in the world of anti-aging skin care.  Voss Laboratories, the makers of Amatokin Eye Cream, would like you to believe that this is happening now, with their Amatokin product line using "stem cell" technology.  Their claim is that their products employ stem cell technology to rid the fragile skin under your eyes of puffiness, dark circles, discoloration, lines and wrinkles in as little as 28 days.  Let's look a little further into how this new technology works.
Amatokin Eye Cream Ingredients and How They Work
The formula behind Amatokin Eye Cream is said to have been originally created in a top secret Russian lab, while attempting to find a solution for the skin of severe burn victims.  The makers saw what they had, and realized it could work to correct the problems of natural aging as well.  It doesn't contain actual stem cells.  Instead it is supposed to work with the wealth of stem cells already present in skin to replenish and regenerate new skin cells, reversing the damages of time and revealing younger, fresher skin.
The problem is, there is no explanation of how Amatokin Eye Cream works or the revolutionary science behind it.  There used to be an official Amatokin website, but it appears to have been taken down.  With a little digging, we were able to come up with an ingredients list.  Amotokin Eye Cream contains a couple of peptides to help stimulate the production of collagen, but so do a lot of other anti-wrinkle creams.  There is also yeast extract, which contains proteins and amino acids to stimulate cells not unlike peptides, but this is also fairly common, though less so than traditional peptides, in skin care.
Amatokin Eye Cream Pros and Cons
While Amatokin makes a lot of bold claims, it would be wise to take a look at the advantages and disadvantages to be found from using this product.
Benefits of Amatokin Eye Cream
It contains peptides.
It is fragrance free.
Drawbacks of Amatokin Eye Cream
This under eye cream can be very expensive.
There is no official website.
There is no explanation of how this new stem cell technology works.
There are many Amatokin Eye Cream reviews stating that it simply does not work.
There is no money back guarantee.
Where to Buy
Amatokin Eye Cream appears to only be available through online resellers like Amazon and others.  A ½ oz jar will cost you anywhere from $62 to $99.  It is also available on Ebay for about half the price.  Given that this is supposed to be leading edge skin care technology, we don't take this as a good sign.
Conclusions
There is a lot of interest in and talk about stem cells and how they may one day be able to cure serious diseases and chronic conditions.  It would appear that Voss Laboratories has tried to use this interest to entice hopeful women to spend a significant amount of their hard earned money on  Amatokin Eye Cream.  Without explanation, they tell you that this futuristic science is here today in the formula they created behind a shroud of secrecy. Given the lack of information and support for their claims, the disappearance of their website, the negative customer reviews, and the flood of product at reduced prices, we are not buying it.  There are plenty of eye creams out there with peptides and an money back guarantee.  Choose one of them, not Amatokin Eye Cream.
Have You Used Amatokin Eye Cream?  Leave Your Review Below!
How Women Found This Review:
and amatokin voss
User Questions and Answers
User Questions and Answers
No Questions Have Been Answered For This Article.