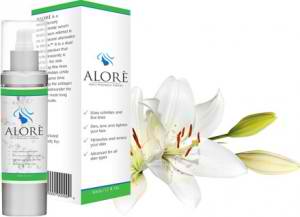 Alore Anti Wrinkle Cream Review – Does It Actually Work?
Alore Anti Wrinkle Cream is a dermatologist recommended cream that will give you the face-lift that you want without using any knives or needles. It has been clinically proven to be the most effective anti wrinkle cream in the smallest amount of time. It doesn't just take away the wrinkles but it makes your skin softer, smoother and firmer.
I also encourage you to read my latest article Beware of Free Trials for Anti Aging Products – an Investigative Report
How Alore Anti Wrinkle CreamWorks
Alore Anti Wrinkle Cream dives deep down into the skin and tackles the wrinkles at the root. It elevated the levels of collagen and this in return, reverses the aging process. The active ingredient within Alore Anti Wrinkle Cream is Palmitoyl peptides, which has been clinically proven to increase collagen and elastin production.
Alore Anti Wrinkle CreamBenefits
You get tighter and healthier looking skin
It is dermatologist recommended
You will no longer have to use Botox or any other procedure
Alore Anti Wrinkle CreamDrawbacks
It only comes in a free trial and there is no place to purchase it until after you give the company all of your information
There is no full list of ingredients
The website is not very informative
You have no idea how much Alore Anti Wrinkle Cream actually costs
Where to Buy Alore Anti Wrinkle Cream
There was no website where you could actually purchase Alore Anti Wrinkle Cream. Every website that we could find only offered free trials in order to get all of your information and get you on an auto-ship, auto-rebill program. The websites that offer the free trial include aloreskincare.com, zimbio.com and getfreebies.com.
Recommendation
Alore Anti Wrinkle Cream does not seem to be a product that you should spend your money on. Not to mention the fact that you have no idea how much it actually costs. The only way that you can receive the product is by signing up for a free trial and giving the company all of your information. When we see companies like this with such vague policies, buyer beware, they are trying to get you on an auto ship program that could be very difficult to cancel.
Alore Anti Wrinkle Cream's website states that it is dermatologist recommended and it is clinically proven but there is no data to back this up. There is also nowebsite where a full list of ingredients is offered to the consumer. In all honesty, this does not seem like a product to buy when they don't give you all of the facts. Go spend your money some place else.
Have You Used Alore Anti Wrinkle Cream? Leave Your Questions or Comments Below!
How Women Found This Review:
and https://www womensblogtalk com/alore-anti-wrinkle-cream-review-–-does-it-actually-work
User Questions and Answers
User Questions and Answers
---
Q: What is the price for this product -Aisha
A:
Hi Aisha, Alore is an outdated product that I haven't seen since 2014.  A great choice for all around anti aging is Kollagen Intensiv. It's AMAZING! xo Rachel
Was this question helpful to you?

---
Q: I have been diagnosed with Celiac Disease. I must use gluten-free products. Is Alore Anti Wrinkle Serum gluten free?? - no wheat products. -Marilyn
A:
Marilyn, thanks for your question. I would not recommend Alore Anti wrinkle cream. If you go back and read my review I don't recommend it for various reasons. The main one being it's a free trial scam. They send you a free trial and then bill you about $90 on the 14th day and keep sending it to you each month and it's very difficult to cancel. To make things worse, they do not list their ingredients in any detail on any of their ads, so I couldn't tell you if it was gluten-free. I will add that another lady emailed me and she was also celiac, apparently gluten is not absorbed through the skin in any amount that would aggravate or even be an issue with celiac. You could double check this with your Doctor, but I don't think it's an issue for skin care. However, there are plenty of brands that probably don't contain gluten so why risk it I suppose.... My top recommended cream Kollagen Intensiv and it does not contain gluten.  You can take a look at the ingredients list here. One lady was concerned that it contained oat kernel, but oats are gluten free and they do not process any other products containing gluten at the manufacturer. Let me know if you have any questions. ~Rachel


Was this question helpful to you?

---