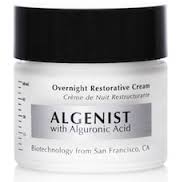 Algenist Overnight Restorative Cream Review
Algenist Overnight Restorative Cream Overview
Most (if not all) night creams are very rich and emollient. It's the time when skin gets to relax and just drink it in. Of course, skin needs more than just moisture. It needs nutrients, cell communicating ingredients, antioxidants, moisture barrier repairs, and believe it or not, so much more. So when we look at night creams, we look for something with the whole package. Algenist Overnight Restorative Cream claims that it lives up to the challenge. But does it?
When we take a look at the online Algenist Overnight Restorative Cream reviews from customers, what we find is a lot of compliments on its rich feel and texture, but no raves about actual positive effects its having on the skin. So our next step is to look into the ingredients to see what we can figure out.
Algenist Overnight Restorative Cream Ingredients and How They Work
The signature ingredient in Algenist Overnight Restorative Cream and all Algenist skincare products is Alguronic Acid. This is touted as an accidental discovery by a San Francisco laboratory. The found that this substance has an uncanny ability to regenerate skin cells, which leaves you with smooth, even toned skin upon waking.
But the formula doesn't stop there. It also includes:
Vitamin C which is an antioxidant that also regenerates cells.
Vitamin E which is an antioxidant.
Peptides which encourage collagen production.
Crithmum Maritimum Extract which increases the density of skin so it's more resilient.
Algenist Overnight Restorative Cream Pros and Cons
We always look at both the good and bad sides of a product to make sure we've covered all our bases before making a final conclusion.
Advantages of Algenist Overnight Restorative Cream
It contains several ingredients targeted toward regenerating skin.
It's rich and emollient.
Lots of Algenist Overnight Restorative Cream reviews talk about how well it absorbs into skin.
Disadvantages of Algenist Overnight Restorative Cream
It's expensive.
A whole lot of reviewers talk about how it's okay, but not worth the money.
The jar packaging means that a lot of the best ingredients won't last long because they break down with exposure to light and air.
Where to Buy
You can purchase Algenist Overnight Restorative Cream online, or if you prefer a brick and mortar store, it's carried by Sephora. The 2 ounce jar retails for $90, but I've seen plenty of indication that it may be possible to get a decent sized sample from Sephora.
Conclusion
While Algenist Overnight Restorative Cream may be a good night cream, the word on the street seems to be that it's just not worth the high price you'd have to pay. Since it's available at Sephora, I'd recommend you try a tester and see if you can get a sample. That way if you end up buying Algenist Overnight Restorative Cream in the end, you know what you're getting.
Have You Used Algenist Overnight Restorative Cream? Leave Your Review Below!
User Questions and Answers
User Questions and Answers
---
Q: do i need to use serum first? can i use serum under this product? -rosemary
A:
Rosemary, a serum is where you'll find the most concentrated ingredients as the molecules are smaller and able to penetrate deeper than a cream. I always recommend a good serum plus a moisturizer! :) xo Rachel
Was this question helpful to you?

---