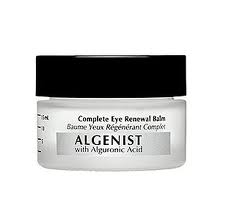 Algenist Complete Eye Renewal Balm – How Effective Is This Eye Balm?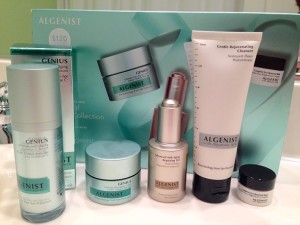 Algenist Complete Eye Renewal Balm was created by a laboratory in San Francisco by a manufacturer with relatively little experience in creating anti-aging products.
The story is, two scientists were researching microalgae for renewable energy solutions, and unexpectedly discovered Alguronic Acid (patented), a powerful compound responsible for regenerating and protecting the microalgae cell. Sounds pretty impressive so far, right?
I decided to purchase "The Best of Algenist Collection" from Sephora for $120 and it had a .25 oz tub of the Eye Balm, so I gave it all a try. Before we get to my experience, let's talk about how this stuff works.
How Algenist Complete Eye Renewal Balm Works 
Algenist Complete Eye Renewal Balm is based on alguronic acid.  The ingredient is said to increase cell regeneration and elastin synthesis, and there are trials that vouch for these results. This ingredient qualifies Algenist Complete Eye Renewal Balm as an anti-aging cream and it seems to be very popular among older women.
The balm also contains vitamin C that gives the skin that radiating effect that women love so much, and caffeine which is useful in combating puffiness around the eyes.
The cucumber extract helps nourish and moisturize the skin around the eyes, while diminishing dark circles. Algenist Eye Balm, however, is mostly praised and recognized for its anti-aging capabilities, as there are reviews that claim that it is not as useful in combating dark circles as other products.
Algenist Eye Balm Benefits
A very effective anti-aging cream
Many tests attest its efficiency
A lot of positive feedback from users
Algenist Eye Balm Drawbacks
A bit on the expensive side
It may not be as effective as other products in combating dark circles
It may not work for everybody
My Experience Using Algenist Complete Eye Renewal Balm
As much as it's hyped up to be this scientific miracle with the accidental discovery of the Alguronic acid, I didn't experience any miracle when it came to my fine lines and wrinkles. I didn't really notice an improvement.
It was a nice moisturizer, and the reason they call it a "balm" is because it's a bit thick, so it gave me the feeling it was sitting on top of my skin. Personally I prefer lighter, serum type eye treatments better, since their molecules are smaller and they absorb better.
It's not fragrance free so if your eyes are sensitive, I would try a sample before purchasing a full sized tub.  After using their entire line for a few weeks, I wasn't overly impressed. The serums and creams smell like candy or chocolate, and that's just not what I like in skin care.
Where to buy Algenist Complete Eye Renewal Balm
Algenist Complete Eye Renewal Balm can be purchased directly from the manufacturer's website. You can also find it in Sephora, and other online retailers. I've never seen it in any of the other big department stores.  It was priced at $65 for a 0.5 oz tub at Sephora last time I checked.
Recommendation
Algenist Complete Eye Renewal Balm was created as an anti-aging product with a newly patented compound called Alguronic Acid, and it is this ingredient that sets it apart from other eye treatments.
While it can deliver great effects, such as making the skin look brighter, younger, with less fine lines and wrinkles, and also combat puffiness and dark circles, Algenist Eye Balm does not seem to work for everybody in the same way.
There are plenty of positive reviews about this product, but there are also a few that say the balm is not as effective in diminishing dark circles as other similar products.
Even though I found plenty of positive reviews on this product, my personal recommendation is to invest in something more gentle on the eye that absorbs better.
Have You Used Algenist Eye Balm? If so, leave your review below!
User Questions and Answers
User Questions and Answers
No Questions Have Been Answered For This Article.