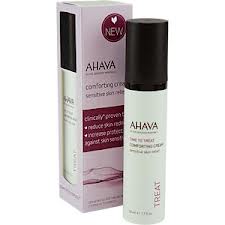 Ahava Comforting Cream Review – Should You Use It?
Ahava Comforting Cream Overview
Ahava means Love in Hebrew. So if you think about it, the name Ahava Comforting Cream means "Love Comforting Cream". That's very nice and soothing, so if the name was the important thing, we'd already have a winner. But it's not, so let's take a closer look and determine what this Ahava Comforting Cream is all about.
The promise is that Ahava Comforting Cream provides total relief for sensitive skin. You can use it every day, and you can use it when your skin is feeling irritated. It does double duty by moisturizing and calming/protecting your skin. It's been clinically tested, and the results as determined by a dermatologist were that 84% of participants felt immediate comfort and 85% saw a lessening of redness to their skin.
Ahava Comforting Cream Ingredients and How They Work
There are definitely some impressive ingredients here, like:
Glycerin for skin-identical hydration.
Aloe for soothing comfort.
Urea to bolster the skin's protective barrier.
Jojoba and Squalene for moisture and emollience.
Allantoin and Bisabolol for adding hydration and fortifying moisture barrier.
Hydrolyzed Corn Protein as a cell-communicating ingredient that "teaches" skin how to behave younger.
Dead Sea Mud to purify and cleanse. Ahava Comforting Cream
Vitamin E to provide antioxidant protection against free radical damage caused by sun and environmental exposure.
Vitamin C for antioxidant protection, collagen production, and skin cell regeneration.
Again, Ahava Comforting Cream is for every day use as well as for use with occasional flare ups.
Ahava Comforting Cream Pros and Cons
Comparing what's good and what's bad about a product is a sure way to decide whether or not it's for you.
Advantages of Ahava Comforting Cream
It contains several ingredients that bolster your skin's protective barrier.
It's been clinically and dermatologist tested, and shown to be gentle and effective.
The Ahava Comforting Cream reviews we've seen have been very favorable.
The pump dispenser will keep the ingredients intact and effective.
Disadvantages of Ahava Comforting Cream
It's kind of expensive.
It contains some botanical ingredients that may actually be irritating to sensitive skin, though it may be in miniscule amounts because I haven't seen any complaints.
Where to Buy
You can purchase Ahava Comforting Cream at Nordstrom or online. The 1.7 ounce pump retails for $45.
Conclusion
If your sensitive skin needs relief, Ahava Comforting Cream may be perfect for you. That seems to be the experience for most of the customers I've heard from.
Have You Used Ahava Comforting Cream? Leave Your Review Below!
User Questions and Answers
User Questions and Answers
No Questions Have Been Answered For This Article.