In addition to face creams and spot treatments, there's another way to lighten and even the tone of your skin. Met Tathione is a pill used by many women in Asia as part of their skin whitening and brightening regimen.
In 2004, the White Beauty Corporation was formed through the cooperation of a skin specialist and an entrepreneur. Their flagship product is Met Tathione, and it is the number one Glutathione supplement on the market.
Met Tathione Ingredients and How They Work
Met Tathione is a Glutathione supplement. The official reason for taking a Glutathione supplement is for liver and blood detoxification.
It is an antioxidant, and it helps protect cells against damage caused during cancer treatments like radiation and chemotherapy.
But the beauty industry benefits from one of Glutathione's side effects. It whitens skin by reducing the amount of melanin that gets produced.
The recommended dose is based on your weight. You should take Met Tathione 3 times per day, but the number of capsules you take each time depends on how much you weigh. The average person will take 1 capsule 3 times per day.
How long it takes to see visible results also varies. The average is about 2 to 3 months, but this varies based on your size and starting skin color as well. You might also consider taking a Vitamin C supplement as this is known to speed up the whitening process.
Met Tathione is made in Japan and considered to be a food supplement. It is not regulated as a drug, but its manufacture does conform to the Japanese food supplement standards.
Met Tathione Pros and Cons
One of the surest ways to make a wise decision about whether or not to purchase a product is to compare the good and bad points as you see them.
Advantages of Met Tathione
It is a healthy antioxidant supplement
It may supplement your whitening/brightening routine
Disadvantages of Met Tathione
It is expensive
There have been no clinical studies to prove its effectiveness
While the commercials show several testimonials, every independent Met Tathione review we found indicated that it does not work
Even the bottle states in large print: "No Approved Therapeutic Claims"
Where to Buy
In the US, you can find Met Tathione online through a few different sources, like eBay and Amazon. The price for a bottle varies from about $85 to $110.
Conclusion
Skin lightening is big business all over the world. For so many women who believe they would be more beautiful if only their skin were lighter, the notion that they can achieve this goal with a simple pill is very powerful.
Unfortunately, this seems not to be the case. With no scientific or even reliable anecdotal evidence, we have to recommend that you pass on Met Tathione, and look for a proven topical lightening solution instead.
Have You Used Met Tathione? Leave Your Review Below!
Our #1 Choice for Skin Lightening – Illuminatural 6i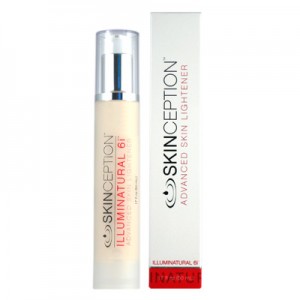 Most of us have some dark spots on our face, shoulders, or chest that we'd like to see gone! Illuminatural 6i works quickly to interrupt the formation of the dark skin pigment melanin to give you youthful, ivory-toned skin that looks radiant.
I've personally used Illuminatural 6i with great results. It contains no toxic or harmful substances, is backed by clinical trials and works quickly to lighten the skin.
Read my official review of Illuminatural 6i here
How Women Found This Review:
and Met Tathione Review, and met tathione reviews, and metathione review, and met tathione review 2016, and Met Tathione, and met tathion help pimples gone
User Questions and Answers
User Questions and Answers
---
Q: Does met tathione can prevent pregnant? -malou
A:
Malou, if you\'re trying to conceive I would advise you to ask your Dr. what he thinks about taking this supplement. I know that Met tathione is a powerful antioxidant, so I wouldn\'t think it would prevent a pregnancy. Our bodies are very sensitive and getting pregnant isn\'t always easy for some. I would not add this to the mix if you\'re trying to have a baby. Rachel~WomensBlogTalk.com
Was this question helpful to you?
3 out of 3 people found this question helpful.
---
Q: Is MET bad for women want to be pregnant? -mae
A:
Mae, it\'s probably NOT a good idea. You should definitely check with a Dr. before using this if you\'re pregnant, or trying to get pregnant. Personally I wouldn\'t take the stuff, I\'d use a topical cream like Illuminatural 6i. It contains no hydroquinone so it\'s safe to use while you\'re pregnant, and it works great. I\'ve used it on and off for years to lighten dark spots. I\'m highly allergic to hydroquinone. Rachel
Was this question helpful to you?

---
Q: Can met thaitone cure melasma? -Luddie
A:
Hi Luddie, I don\'t know if anything can cure melasma, but you can treat it. I haven\'t personally tried the Met Tathione pills so I can\'t attest to how it works. I would almost be a little scare to take something orally to change my skin. I don\'t want to look like Michael Jackson! LOL I\'ve only had luck with topical treatments and using spf to prevent the spots from coming back. IPL laser treatment is the best laser option for melasma as well, but that can get costly. The topical treatment I recommend is Illuminatural 6i made by Skinception. Love their products! Rachel~WomensBlogTalk.com
Was this question helpful to you?
2 out of 4 people found this question helpful.
---
Q: Is taking glutathione of 1000mg effective than taking reduced glutathione of 200mg? -Cairn
A:
Cairn, I really can\'t advise you on this one, I would contact the manufacturer or ask a Dermatologist. Personally I wouldn\'t take a pill to lighten my skin, I\'d be afraid to. I prefer topical lightening agents. Rachel
Was this question helpful to you?

---
Q: Can i take methathione during summer time? -Cristina
A:
Cristina, You can but I would always wear spf 50 and don\'t go in the sun for any length of time. I would imagine if you\'re trying to lighten your skin, you\'re not sunbathing at the beach! :) I\'m always battling hyperpigmenation, I have dark spots along my upper neck, and along my jawline. I use Beauty Counter\'s Brightening Collection and it\'s amazing. It\'s a mask you can use 2-3x per week as well as a facial oil that also has lightening properties along with a spritzer you can carry around in your purse or use to set your makeup. Check it out when you have time. It\'s good to use something topical, I\'m honestly afraid of taking any pill to lighten my skin. Rachel
Was this question helpful to you?

---