Lumi*Essence Organic Brightening Cream
Reviewed by:
Teresa Walker
Lumi*Essence Organic Brightening Cream Overview
In 2008, a 30-something mom-to-be realized that the skin care products she'd been using were toxic to her and her unborn baby.  Not willing to give up an anti-aging beauty regimen altogether, she decided to start her own company, Sweetsation Therapy, providing luxury organic skin care products to women who wanted beautiful skin the natural way.  Lumi*Essence Organic Brightening Cream is one of the products she created, and today is one of the more popular items in her line.
During and after pregnancy, many women experience dark patches of discoloration called melasma.  To lighten these and brighten your complexion, you can use a skin brightener.  Most of these use chemicals that can be irritating or harsh.  Lumi*Essence Organic Brightening Cream uses only natural ingredients, and manages to reduce dark spots, even skin tone, and bring a radiant glow to your face.
Lumi*Essence Organic Brightening Cream Ingredients and How They Work
Lumi*Essence Organic Brightening Cream is packed with botanical extracts that serve a multitude of purposes.  We'll cover the highlights here:
Kojic Acid suppresses the enzymes used in creating melanin which is what causes pigmentation in skin.
Alpha-Arbutin comes from the Bearberry plant and also blocks the action of melanin on your skin.
Papaya and Pineapple Extract provide exfoliation to remove dead skin layers and reveal the smoother, more even skin below.
Niacinamide blocks the transfer of melanin to the skin cells so it doesn't form irregular pigmentation.
Milk Thistle is an antioxidant and anti-inflammatory that also provides UV protection.
For generally healthy and hydrated skin Lumi*Essence Organic Brightening Cream also contains Hyaluronic Acid, Coconut Oil, Goji Berry Extract, and several other nourishing botanicals.
You should apply a pea sized amount to your entire face twice daily, morning and night.  If your skin is dry, you can apply a moisturizer on top.  If your skin tends more toward oily, Lumi*Essence Organic Brightening Cream is all the moisturizer you should need.
Lumi*Essence Organic Brightening Cream Pros and Cons
Advantages
It is all natural.
It does not contain hydroquinone.
Lumi*Essence Organic Brightening Cream reviews frequently mention the pleasant scent (which is not the case for most skin brighteners).
Disadvantages
Its availability is limited.
It takes time and commitment to achieve desired lightening.
Many customers are not satisfied with their lightening results, though they are happy with the brightening.
Where to Buy
If you think you'd like to give Lumi*Essence Organic Brightening Cream a try, you can buy it at the Sweetsation Therapy website or at Amazon.  Both locations sell the 2 oz bottle for $35.  The website, however, does offer a 30 day money back guarantee, so if this is your first time trying the product, you should consider going through the website.
Conclusion
Finding an effective all-natural skin lightener is not easy.  The most important thing to remember is that you have to be patient.  Hopefully, you'll quickly notice an improvement in the overall look and feel of your skin, but the lightening effect, especially with a natural product, will take weeks or maybe even months.  But if you approach this with realistic expectations, we think Lumi*Essence Organic Brightening Cream is a product you will enjoy using.
Have You Used Lumi*Essence Organic Brightening Cream?  Leave Your Review Below!
Our #1 Choice for Skin Lightening – Illuminatural 6i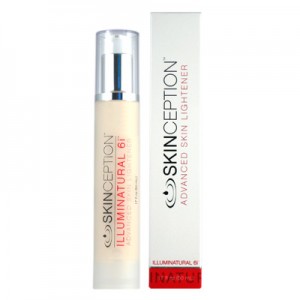 Most of us have some dark spots on our face, shoulders, or chest that we'd like to see gone! Illuminatural 6i works quickly to interrupt the formation of the dark skin pigment melanin to give you youthful, ivory-toned skin that looks radiant.
I've personally used Illuminatural 6i with great results. It contains no toxic or harmful substances, is backed by clinical trials and works quickly to lighten the skin.
Read my official review of Illuminatural 6i here
How Women Found This Review:
and www lumi essence advanced skin lighting treatment com
User Questions and Answers
User Questions and Answers
No Questions Have Been Answered For This Article.