Welcome to my Pruvit Keto OS Samples, Sales and Specials Page!

Welcome! Here you'll find all the current Pruvit Keto OS sales and specials, as well as Keto OS samples I offer.
If you'd like to try before you buy, you can order a 5 or 10 day Keto OS experience and add on any special flavors of your choice (scroll down).
Why Drink Keto OS?
Get into the fat burning state of ketosis in under an hour by drinking one serving of Keto OS!
If you're not familiar with Pruvit's Keto OS, it's a ketones supplement you mix with water in a variety of yummy flavors!
Keto OS and Keto Max come in both Charged and Decaf.
Ketosis is a natural metabolic state where you're burning fat for fuel instead of carbs and sugar.
What is Ketosis?….watch a quick video here explaining how this product works
It's very difficult to get into nutritional ketosis from following a ketogenic (low carb/high fat diet) and for most people this diet is too strict.
By drinking "exogenous" ketones (which are bioidentical to the ketones your liver makes), you don't have to follow a ketogenic diet to experience benefits!
For weight loss, it's best to follow a low carb diet while drinking Keto OS.
All the benefits of ketosis are yours in just one drink per day: fat loss, energy, focus, suppressed appetite, better mood, and better sleep to name a few.
Follow me on Instagram @womensblogtalk or on Facebook.
Pruvit Current Sales and Specials
Heart Tart is back for today only!! April 13th FLASH SALE
Grab this Valentine's Day Exclusive flavor while supplies last! Best flavor ever, tastes like strawberries!
Keto Reboot Kits are on sale April 1st – 5th! Don't delay, these will be gone in a flash!
*SOLD OUT*
This is a 60 hour Keto cleanse that is life changing!
Read about my Keto Reboot experience here.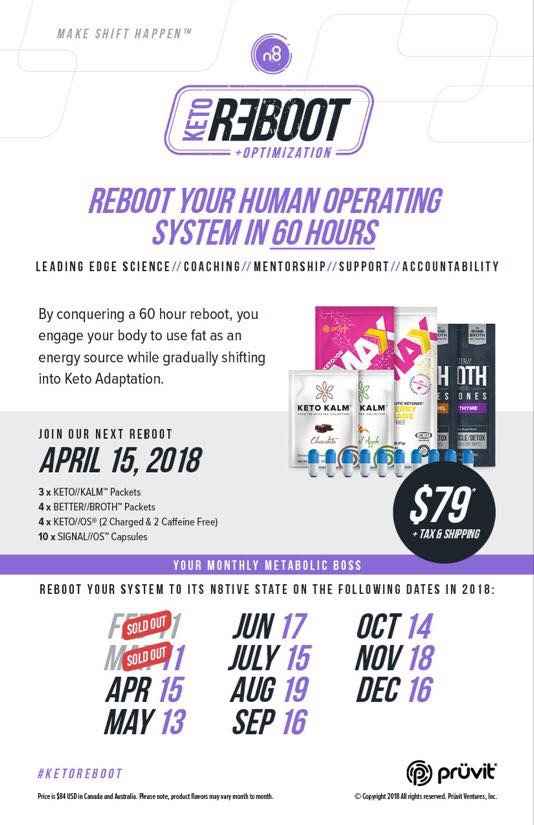 Dr. Mary Newport's MCT//143 is now on the permanent menu! I add MCT to my coffee everyday and do intermittent fasting. Dr. Mary Newport's MCT blend is made from organic coconut oil and blends perfectly and is virtually tasteless.
Add MCT to coffee or tea, into your Keto OS or Keto Max, on a salad, in a shake, or by the spoonful! Just get those healthy fats in! MCT provides immediate energy to the brain and aids in FAT LOSS!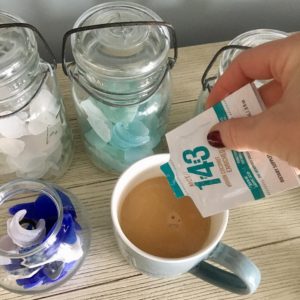 Keto Splash is now on the permanent menu! This is a light, citrusy, watermelon-grapefruit Max flavor with AC-11 and added vitamins B3, B6 & B12.
Aside from the Amped Blue Ocean, the Keto Splash gives me the most energy of all the flavors!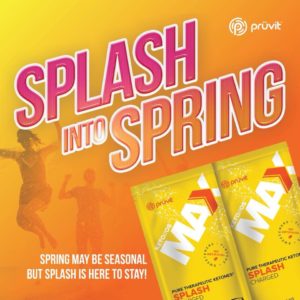 Pruvit Keto OS Samples
Keto OS 5 or 10 Day Experience Trials
If you're new to researching Keto OS and are unsure which flavor you want to commit to, trying a 5 or 10 experience is a great idea!
I am a Pruvit promoter, and I keep a large supply of ketones of all the flavors, including all the new ones! I buy EVERYTHING! 😉
Below are the Keto OS samples and trial packs that I offer. To purchase one, contact me here and tell me which one you'd like, and whether you'd like all charged or a mix of charged and decaf, along with your mailing address.
I will then send you a Paypal or Venmo request, and mail the following day with tracking. Priority mailing is available for an additional $5.
It's fun to try all the flavors, and I guarantee you will LOVE more than one flavor, they are THAT good!
Keto OS Samples 5-Day Experience
$35 – includes one of each flavor (Charged or Decaf, or a mix)
1 Keto Max Maui Punch
1 Keto Max Swiss Cacao
1 Keto Max Raspberry Lemonade
1 Keto//OS Orange Dream
1 Keto//OS Chocolate Swirl
Keto OS Samples 10-Day Experience
$65 – includes two of each flavor (one of each Charged and Decaf)
2 Keto Max Maui Punch
2 Keto Max Swiss Cacao
2 Keto Max Raspberry Lemonade
2 Keto//OS Orange Dream
2 Keto//OS Chocolate Swirl
New Keto OS Flavors
**Experience Add On's**
Add any of the following to your Keto OS 5 or 10 day Experience:
Keto Max Purple Reign (grape) – Just released at Epik! – $10
Keto Max Heart Tart – Valentine's Day Exclusive – $10
Keto Envy (thin mint cookie) – $10
Amped Blue Ocean (pina colada) – $10
Amped Midnight (black cherry vanilla) – $10
Keto Max Splash (watermelon-grapefruit) – $8
Keto Kreme "Bulletproof coffee mix" – $5
MCT//143 – $5
Keto Kalm Tea – $5 (Chocolate or Caramel-Apple)

How to Get Your Ketones 22% off – SMARTSHIP
Get your ketones 22% off each month by signing up for Smartship.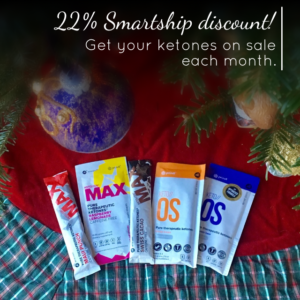 Smartship is a monthly ship program where they mail you your ketones every 30 days at a deep discount.
What's great about Smartship?
No commitment – you can cancel, change products, or edit the date anytime you like. No catches!
22% off your entire order each month
You don't have to chase any sales
Never run out of ketones and have to scramble to order more
Committing to ketones and drinking them daily is where you're going to see the biggest benefits
Pruvit emails you each month 5 days before your Smartship order to see if you'd like to make any changes
Refer two friends to sign up for Smartship and get your monthly Smartship for FREE!
Other Pruvit Related Links:
Pruvit Keto OS Testimonial and Before and After Pics
Pruvit Keto OS Amped Blue Ocean
Pruvit AC-11 DNA Repair and why it should be part of your anti-aging routine
My Families Results on Pruvit Keto OS (My Mom and my Brother)
Pruvit Promoter Bootcamp – What you Should Know Before Joining
User Questions and Answers
User Questions and Answers
---
Q: will one box of drinks be enough on a monthly basis? -madeline
A:
Hi Madeline, a box of 30 would be enough for once per day, but most people either get two boxes (a couple different flavors) or a box of ketones plus the fat supplement - the Keto Kreme which you can mix with coffee or tea. I think you emailed me so hopefully this helps! Thanks, Rachel
Was this question helpful to you?
2 out of 2 people found this question helpful.
---
Q: I want to know if I can take it now tht im 50. I want to loose 25 pounds adn have tried evrything. is it safe to drink, -mylene
A:
Hi Mylene, yes ketones are very safe. Our body naturally goes into ketosis and our liver makes ketones. Being in ketosis is our native state.  Pruvit's Keto OS is safe for pregnant and nursing mothers, even kids (the decaf). It's a fantastic supplement and so many other health benefits aside from fat loss/weight loss. You're going to feel energized and have a spring in your step! Give it a try. You can email me directly at [email protected] if you have any more questions or would like to chat. Otherwise, visit my Pruvit website and order some - you won't regret it! I've been drinking them daily for over a year (I'm 45). Best supplement I've ever been on and the only one I've ever committed to. Good luck! Rachel
Was this question helpful to you?
2 out of 2 people found this question helpful.
---
Q: Will one packet a day give me good results as far as the products benefits? -Cindy
A:
Hi Cindy, thanks for your question. Some people do well on one a day, others really need two a day to stay in ketosis longer. But I would definitely start with one a day and see how you do before going up.. I do very well on one per day. I did drink it twice a day when I started, until I was at a happy weight then went down to one.  Pruvit considers one dose per day therapeutic and two per day optimal. It just really depends on your goals and the issue you're trying to treat. Some people take ketones for pain since it's an anti-inflammatory so those people do better with a steady dose. Feel free to email me at [email protected] if you'd like to purchase a 5 or 10 day experience to sample the flavors. Thanks! Rachel
Was this question helpful to you?
1 out of 1 people found this question helpful.
---
Q: Y is it so expensive for just a couple days use -Michelle
A:
Hi Michelle, a 5 day is experience to try all the flavors is $30 so it's more than a couple days. If you buy a box it's cheaper per serving, and it's 22% off right now, until midnight (Dec. 20). Exogenous ketones are a new product to the market that just came out a couple of years ago, I don't think it's expensive for all the health benefits it provides on one serving a day. :) Lots of people spend $5 a day at Starbucks... I think it's worth every penny. It's not cheap, but there are ways to get it free. Thank you, Rachel
Was this question helpful to you?
2 out of 4 people found this question helpful.
---