Beautycounter – Hello Safer Skin Care!
Click Here for My Beautycounter Online Store – You'll see my picture come up, click "start shopping" to browse around!

I've been searching for a safe, natural skin care line that I could represent that I would feel good about not only using, but recommending to others.
When I found Beautycounter, it fit the bill ~ effective products, and no bad chemicals!
Being the skin care junkie that I am, I ordered just about one of everything, and since May I've been indulging in all things Beautycounter!
Why do I love Beautycounter? For one they have a "Never List" of 1,500 questionable or unsafe chemicals that they'll never use in their products.
Secondly, I LOVE every single product that I've tried! The skin care is amazing and choc-full of plant based ingredients and anti-oxidants to nourish and protect and it does a great job of minimizing wrinkles and giving me an even skin tone!
With that said, here are a few of my favorite Beautycounter products!
Vibrant. Radiant. Refreshed. Skin at its peak performance!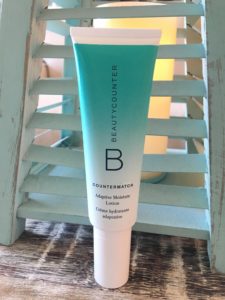 Beautycounter's Countermatch lotion is lightweight and helps the skin adapt to varying conditions by adjusting hydration and oxygen levels as you need it, and it's my favorite Beautycounter moisture lotion!
This is a lotion that I can use either am or pm for a smooth look that remains consistent throughout the day and night.
The Countermatch Lotion has a silky, smooth feel and glides over the skin effortlessly and it's extremely gentle and soothing! 
With breakthrough plant based Bio-Mimic technology, it has the ability to exactly match the skin's structure to give it exactly what it needs, when it needs it.
The Countermatch lotion is high in vitamins E, A, C and D and is packed with anti-oxidants and nourishing ingredients. It even contains a little salicylic acid which is great for deeper absorption and cell turnover!
This is a great choice for an all around anti-aging treatment to smooth wrinkles and help the skin retain moisture.
Click Here to read my Countermatch review, or see this product on my Beautycounter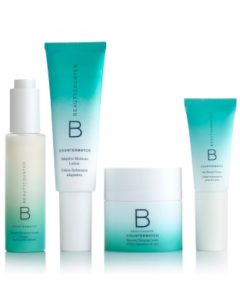 Beautycounter has just released an entire Countermatch Collection! All of these new products contain their breakthrough Bio-Mimic Technology and are high in anti-oxidants and hyaluronic acids.
Here are some highlights about each new product
Countermatch Intense Moisture Serum – concentrated formula of two types of hyaluronic acid, vitamins C, E antioxidant protection and Arginine naturally found in beet root for radiant, vibrant skin.
Countermatch Eye Rescue Cream – Squalane (derived from olives) hydrates while betaine (derived from sugar beets) and phytic acid increase oxygen product to refreshen tired eyes.
Countermatch Recovery Sleeping Cream – Seals in moisture and protects your skin from losing it while you sleep! Hyaluronic acid (holds 1,000x its weight in water), plum oil rich in omegas 6 & 9, vitamin E and other plant derived anti-oxidants to revitalize the skin.
You can read about these new products at the bottom of my Countermatch Lotion Review.
Here are more of my favorite Beautycounter Products!
Beautycounter Cleansing Balm – a Review of their Best Seller!
http://www.womensblogtalk.com/beautycounter-facial-oils-which-one-is-right-for-you
Our #1 Choice for Anti-Aging – Lifecell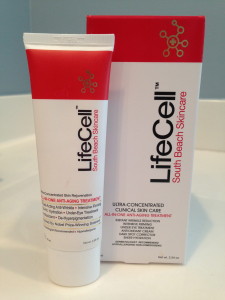 I haven't found a product yet that makes wrinkles vanish quicker than Lifecell – it works instantly to smooth those wrinkles!
Lifecell's Nobel Prize winning ingredients is unmatched, and you can try it for FREE for 30 days!
Read my Lifecell review here or visit the Lifecell website  
How Women Found This Review:
and rachel vrabel
User Questions and Answers
User Questions and Answers
---
Q: Is proactive repair free office a scam? -Linda
A:
Linda, I would avoid any free trials where the free trial period is 14 days, just be sure and read the terms and conditions. If it's 30 days, then that's a reasonable time frame, just jot the numbers down when you order in case you decide to cancel before they bill you. ~Rachel
Was this question helpful to you?

---
Q: Suavepele - Does anyone have any information on how to contact this company? I have been scammed by the trial offer method and am now being billed $89.95 per month thru my bank account. My bank will not help me. -Sue
A:
Sue, if your bank will not help you, you should ask them to cancel your debit card and issue a new one. They should be able to at least give you a phone number to contact this company, and if they don't have one, then that should give them enough info to at least block them. you may want to find a new bank... good luck! Rachel
Was this question helpful to you?

---